Powersoft has continued the global roll-out of its X-Series amplifiers with a launch in Singapore, durind November.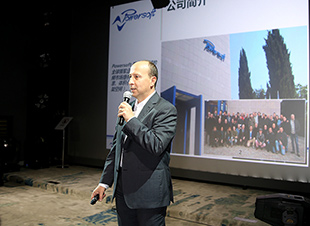 Hosted by E&E – Powersoft's distributor in Singapore, who recently completed the integration Singapore Sports Hub – an audience of invited professionals were shown the new amplifiers, along with the Deva self-contained multifunctional multimedia device.
The session opened with a speech from E&E Deputy MD Gary Goh, with Powersoft Sales Director Luca Giorgi representing the Italian manufacturer. This was followed by the background to, and the launch of, the products themselves by Powersoft Applications Engineer, Remo Orsoni – who, with more than 30 years' experience in sound engineering and designing of professional audio systems for touring, portable and fixed installation applications, is based in Singapore.
The roadshow then moved on to the Korean capital of Seoul, for a Partner's Day with DasanSR, the local distributor, who organised a meeting with its dealers and system integrators.
Finally, Powersoft held the official launch of the X-Series to the Chinese market (including the media) with Sanecore Audio in Shenzhen.
Luca Giorgi regards the company's investment in the Asia Pacific region as being vital to the company: 'This exercise was fully successful and we were delighted with the feedback we received, both from our partners and their customers,' he says. 'We are looking forward to seeing the first application project for the X Series in Asia, which is an ideal product for this growing region.'
These introductions were accompanied by a workshop held by Gobos do Brasil at its São Bernardo do Campo headquarters in São Paulo, introducing the X-Series amplifiers to South America. The event was attended by Powersoft Senior Audio Engineer Mario Di Cola, along with Fly Audio Solution owner Fabiano Rezende (Powersoft's technical support factory in Brazil) and Gilberto Morejon, the brand's Commercial Manager for Latin America and the Caribbean.
See also:
E&E equips Singapore Sports Hub
More: www.enepl.com.sg
More: www.dasansr.com
More: www.sanecore.cn
More: www.powersoft.it