In advance of the opening of its new performing and visual arts complex, a recent production of Shakespeare's Romeo and Juliet saw the first use of HOME's new Solid State Logic Live. L500 console.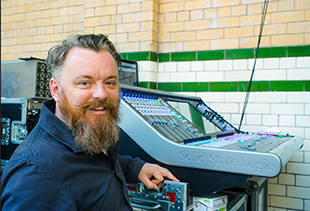 Staged in Manchester's historic Victorian swimming baths, the production offered a proving ground for the console, which was chosen by Technical Director Jasper Gilbert and Sound Designer Paul Gregory, and supplied by HD Pro Audio. The L500 will subsequently be installed in HOME's new facility for continued use.
When Manchester's Central Library was renovated in 2010, the Library Theatre Company lost its intimate 312-seat basement venue of 58 years, and has since presented in a variety of unorthodox spaces, such as the productions at the Victorian baths as HOME. For Romeo and Juliet, HOME employed a promenade-style production that moved actors and patrons through three large swimming pools. The main bulk of the action happened in the empty 'female' pool, with the finals scenes on the cross structure in the filled Gala pool, where Juliet's body floated. Retold in a contemporary Eastern European criminal underworld, this production included Balkan choirs and Gypsy music by Macedonian composer Nikola Kodjabashia. With a production like Romeo and Juliet in a Victorian structure with brickwork, glass and tiles, the acoustic problems were immense.
Sound design was crucial consideration: 'For Romeo and Juliet, we were very reliant on the console operator getting feedback from the stage management team roving with the performance,' Gregory explains. 'Much is pre-programmed and level adjustments must get radioed to the operator. In addition to 16 channels of radio mics, there were 16 inputs from a live band plus a dozen channels of playback from Figure 53's QLab on a Mac that was triggered from the L500. It really was a one button show. The desk controlled the show and we simply had a series of cues that we sequenced through.'
The Romeo and Juliet audio team distributed about 200 inexpensive Bose-like speakers and used individual delays to overcome the baths' long reverb times. 'The idea was to pick up actors using head mics and bring it as close to the audience as we could, which we found incredibly easy to do with the SSL desk,' says Gilbert, who is a veteran of mobile tours and site-specific productions. 'This production is also staged in such a manner that one character never actually appears 'on stage. So, in addition to the distributed speakers, there were also traditional PA-like speakers for the actor's disembodied voice, as well as larger-scale speakers with subwoofers for the music.
'Even with complicated mixes, the sound doesn't become cluttered,' he says of the L500. 'There's a lot of headroom, the mix buses are very broad and the console is incredibly clean and transparent-sounding.' Gregory adds 'Another thing that attracted me to the desk was its versatility and flexibility. You can essentially build a desk for whatever application you need, whatever project you're doing; it's invaluable.
'The interface is so intuitive we're confident new operators will be able to pick it up quickly. It's so easy to get your head around. We'll be adding staff members for HOME's new venue and it's reassuring to know the SSL will be a quick catch on for them, that even though it's an incredibly complex desk.'
HOME's ambitious new complex rejuvenates of Manchester's First Street area, and will be one of the first theatre venues in the UK to have an L500 permanently installed. Besides its 500-seat main theatre, it also houses a 150-seat flexible studio space, digital production and broadcast facilities, a 5,300 square-foot gallery space, five cinema screens on the third floor, as well as a café bar and restaurants.