With a history beginning in Comédie Française and spanning more than 125 years, Vienna's Burgtheater is among the greatest stages for German-language theatre. Staging 900 shows each season, 160 stagehands are required daily to prepare for the evening performances, which change daily. Flexibility is key.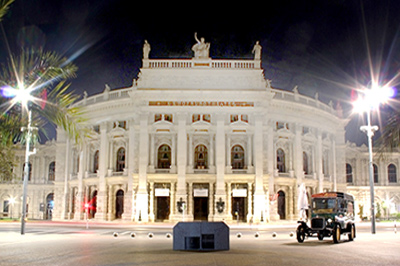 This requirement, along with exceptional output/volume ratio, high dynamics and definition, have seen Lambda Labs DH-18 subwoofers become a versatile part of the 1,300-capcity venue's sound system.
The sound output of the 3.6kW RMS Single 18-inch cabinet can be switched between two operational modes, corresponding to different sound reinforcement requirements. In Directivity mode, the DH-18 offers high directivity of its 104dB/1W/1m output, while Space mode extends the LF from 30Hz to 28Hz (±3dB), providing infra bass.
'We had been engaged to enhance the theatre's acoustic equipment with effective bass for some years', says David Müllner, Burgtheater Director of Sound. 'In the course of this, several products were put to the test. Wolfgang Sauter with Pro Performance in Vienna, finally found what we had been looking for – the two DH-18 do exactly what we need them to. Despite their relatively small size, we are able to produce very low signals at very high levels, which makes for incredibly realistic sound effects on stage
'In fact, after our initial plan to use them for effective bass, we more often than not employ the subwoofers for musical pieces, since we have grown to prefer their sound and level over our previous bass speakers, even with varying musical material and during live performances. Using to their various modes, we can put them to very flexible use. The concept really does signify an innovation and I can only recommend everyone to listen to the product for themselves.'
According to Lambda Labs, the design of the DH-18 subwoofer is based on a set of finite horn segments. The contour does not follow the usual continuous expansion, but has abrupt changes in cross-section. These strategically placed changes make the equalisation above the crossover frequency easier and ensures a uniform maximum level. Due to the consistent optimisation and the placement of the points of discontinuity, the horn achieves a very impulsive bass reproduction even in the upper transmission range.
More: www.lambda-labs.com