Its iconic design has seen it used everywhere from stage and recording studio, through music videos and commercials to US postage stamps. And this year, Shure's model 55 Unidyne dynamic microphone marks 75 years with the 5575LE – a Limited Edition release with a carefully chosen 21st-century upgrades.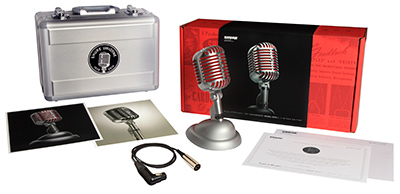 Available in a numbered manufacturing run of 5575 pieces, the 5575LE features the current Unidyne III cardioid element, the characteristic outer grillle, vintage badging, and a zinc die-cast finish, with a silver-finish desk stand. The microphone is supplied in an aluminium flight case with anniversary logo, including a certificate of authenticity.
Introduced in 1939, the 55 Unidyne was widely adopted in broadcast, public address, recording and two-way radio applications. By the 1950s, it was so well known that it was marketed as 'the microphone that needs no name'. Today, it is what many think of when they hear the word 'microphone'.
The 55 Unidyne was the first directional microphone to use a single dynamic element and continues to influence dynamic microphone design. This was recognised by the international Institute of Electrical & Electronic Engineers (IEEE), who honoured Shure with the prestigious Milestone Award in January 2014, placing the company alongside previous recipients of the award such as Guglielmo Marconi, Nikola Tesla, Michael Faraday, and Benjamin Franklin.
The Shure 5575LE Unidyne Limited Edition Microphone will be available from early 2015.
More: www.shure.com
More: www.shuredistribution.co.uk