Opened in 2003 as a Japanese-style lounge, Blowfish enjoys a reputation at elite end of Jakarta nightlife. To help maintain this status, owner the Ismaya Group has completed complete A/V upgrade, freshen the club's image and improving its ambience.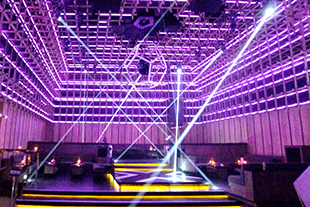 Heavily involved in the refit is Indonesia distributor, PT Citra intirama was a briefed on a 'without compromise' programme that should fit discreetly into the interior scheme. Third-party consultant PT Rhema Multi Perkasa also joined the project. In addition, Vincent Lee of Vertical Acoustics, was introduced to the project in order to advise on soundproofing and design bass traps and diffusers/absorbers to achieve the ideal acoustic conditions. Under the project coordination of Dax M Wenas, Powersoft control was specified to optimise the Martin Audio AQ and Blackline+ speakers installed across the club's five zones, as well as the adjacent Puro restaurant and club overspill area).
'We added the Powersoft amps to complement the additional speakers,' says PT Citra Intirama's Eric Haslim. 'It was great to have two world-renowned brands, and Powersoft provided a perfect complement to the speakers and sub-woofers with their low weight, efficiency, power and excellent sonic amplification.'
The club interior is divided into lounge and bar areas, two separate VIP rooms and the main dancefloor, with PT Rhema Multi Perkasa providing consultancy, acoustic design, installation, commissioning and training/after sales support. 'One of the biggest challenges faced by the sound teams was to ensure even distribution while obtaining high intelligibility – even on hard-hitting electronic tracks the vocals need to be clear and crisp.'
Haslim reports that Powersoft had provided a 'tremendous boost' in delivering the sonic experience desired in a club environment: 'We most certainly took full advantage of Powersoft's inherent electronics,' he says. 'One of the key features, for instance, is the availability of damping control inside the Powersoft amplifiers, where we can adjust the power delivery to complement the extended speaker cable lengths for subwoofers located 100m away.'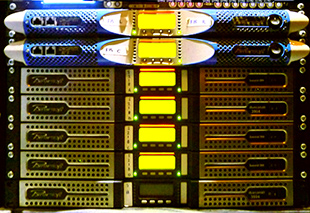 Two Duecanali 5204 two-channel amplifiers are used to power to two single 18-inch subs, and seven Duecanali 3904 drive a further seven subs. Powersoft M50Qs are assigned to a further seven full-range speakers, installed throughout the club, and K3 amps to six further full-range speakers. Meanwhile, next door in the Puro restaurant, further Duecanali 5204, 3904 and M50Q are used to powering more loudspeakers.
Supported by Powersoft DSP and electronics, the Duecanali 5204 and Duecanali 3904 offer an efficient and reliable energy saving design in a 1U rack space – which maintains high-output wattage and clear audio. In fact, Powersoft claim the design to offer 40-60 per cent saving on operating costs over traditional amplifiers of the same power rating.
PT Citra Intirama and PT Rhema Multi Perkasa faced a further sonic challenge, which was provided by the variations in ceiling height and floor levels, as well as the rooms' corners and pillars. 'We had to carefully time delay he set-up we dialled into the system and it took the best part of three weeks to adjust he settings to meet DJs' preferences.'
Eric Haslim is in no doubt that Powersoft played a major role in improving the club's sound system: 'Powersoft offers a truly exceptional value for money in terms of investment,' he assures. 'In addition to the features already mentioned their designs also have excellent circuit protection in terms of dealing with voltage fluctuations. I would have to say that it is without doubt one of the best power amplifier companies in the market today.
'I would like to thank Ismaya Group's Bram Hendrata in entrusting me with designing the best audio system for Blowfish, and to Powersoft and Martin Audio for building such excellent products and providing wonderful factory support,' he adds.