Alongside an upgrade to his keyboard rig that including modifications to his beloved Hammond C3, singer/songwriter Paul Carrack has picked a new submixer – a Cadac Live1 1642 compact console.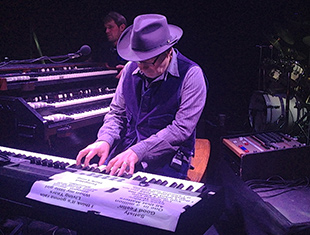 Currently on a 55-date tour around the UK with his band, the console choice was entrusted to monitor engineer Anton Dunbar who was given a 'best quality whatever the cost' mission. 'It was all about the sound quality,' he says. 'Paul asked me to find a desk that sounded amazing but was not overly cluttered on the control surface. The Cadac was the only desk that had both the sound quality and required functionality, and was ergonomically suited to the task at hand and rackmountable.'
While cost was not a concern, sound quality was: 'It's not only the legendary preamps but also the line drivers on the outputs that are superior on the Cadac,' Dunbar says. 'It has transformed the sound from the keyboard rig. Everything is far more transparent and there is a greater depth and richness to the tonality. It sounds very phase linear, as well as having a really flat frequency response. The Cadac is worth every penny if you value sound quality.'
Carrack also appreciates the value of sound quality, touring with his own d&b audiotechnik 402 rig and monitoring with Ultimate Ears UE-11 three-way IEMs. 'Paul is totally amazed – ˙e is hearing all of difference in his IEMs. And his IEM mix is the most important mix on the gig from my perspective.'
Running till March 2015, Carrack is currently performing songs from a stellar 40 year career, including from his work with Ace, Squeeze and Mike and the Mechanics, as well as from his solo career. As a songwriter he has been widely covered, including by the Eagles, Diana Ross and Tom Jones.
More: www.cadac-sound.com