South African animal behaviourist Kevin Richardson has slept next to, fed, and lived with lions. He has also 'worked with' cheetahs, leopards and hyenas. Documenting some of these encounters for a show on British Sky Broadcasting's Sky 1 TV, location sound recordist Sebastian Dunn looked to Digital Hybrid Wireless technology from Lectrosonics.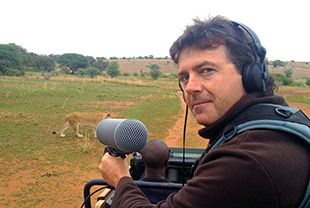 Dunn has been working in location sound since 1993. The first milestone in his career was covering the post-apartheid elections in South Africa for Sky News. In 2013, he was nominated in the Sound Factual category for the BAFTA Television Craft Awards for work with Michael Palin…
'I've been using Lectrosonics gear for over 20 years,' he reports. 'I started with the company's M185 transmitters and CR185 receivers, later upgraded to the UM and SM transmitters, UCR411 receivers and, from there, I acquired SMQV super miniature transmitters and SRb dual slot ENG receivers.'
His current project withRichardson is a four-part series wuth the working title, The Origin of Cats. 'The production company is Bristol-based Offspring Films and the show will ultimately air on Sky 1 TV in the UK in mid-2015. My contribution to the show took place in Namibia and South Africa and for this, I used two SMQVs and the SRb – both on Block 26. I also used a Lectrosonics SNA600 dipole antenna.'
'Throughout most of my career, I've been travelling and, for the most part, working in technically challenging environments' he continues. 'Having used almost every wireless system on the market, there is none more robust and durable than Lectrosonics. I've successfully used them in extreme 130° heat as well as sub-zero environments. As my locations are always so varied and unpredictable, I can't always check frequency compatibility but, for the most part, have not encountered problems severe enough to rule out the use of wireless mics. The SNA600 antenna is also a valuable part of my kit – particularly when the RF range is questionable. The addition of the LectroRM app for my iPhone has also been extremely useful so that I can make hasty changes on the fly.
'The fully grown lions can be very rough and physically jump on him and push him around,' he says of the Origin of Cats. 'When I asked to wire Kevin up, he said it was a huge risk. Having worked with many film crews in the past, he said that most transmitters got damaged by his lions. When I mentioned that I only use Lectrosonics transmitters, his eyebrows lifted. Reluctantly, I clipped my SMQV onto the inside of his belt.'
'Once the crew was safely on the vehicles, the female lioness Olivia was released and immediately launched herself onto Kevin – knocking him off his feet. For five minutes, they "played" – with the 300lb lioness rolling onto him and knocking him about like a ragdoll. The audio was solid throughout the interaction. Then Kevin said that the vehicles were too much of a distraction for the lions. He wanted to go further into the bush to get away from us. We mounted a few GoPro cameras onto him and off he went. I estimate he went a third of a mile away but, with the use of the SNA600 antenna, my signal was rock solid.
'Living in South Africa, I'm pretty far from Lectrosonics,' he adds. 'With that said, the company's support services have been very responsive. I've always been very pleased with the company's service. I've been a loyal supporter of Lectrosonics for the past 20 years and, due to their products' robustness and durability in the field, I will continue to remain one. I've had a great experience.'