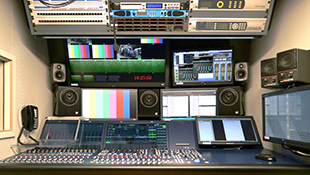 With operations in Hamburg and Dusseldorf, Triofilm TV specialises in studio and location production using two HDTV OB vans equipped for continuous use at Bundesliga soccer matches and large-scale shows for public and private TV stations.
Established in 1989, and the company has recently installed Cedar DNS One dialogue noise suppression software in both vehicles. 'Due to the increasing amount of noise associated with the growing use of projection equipment, lighting and air-conditioning systems, it's becoming much harder to obtain clean sound for transmission,' says Triofilm TV sound engineer Stefan Ebert. 'Being able to use Cedar DNS One as a plug-in on each audio channel is a huge help, allowing us to reduce the noise and to control the problems introduced by poor acoustic conditions.'
In each truck, a host PC running a Solid State Logic (SSL) Virtual Mixer is connected to a main Lawo console via Madi. This allows the operator to route any of the Lawo's inserts through as many of instances of DNS One as are required for each transmission.