DSL Geluids & Lichtverhuur has continued its use of Martin Audio loudspeaker systems by becoming the first sound and lighting rental company in Holland to invest in the MLA Mini.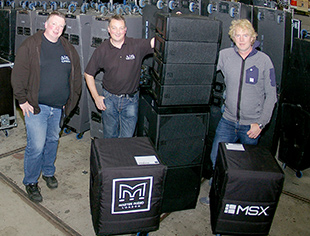 Set up by brothers Ad and Gert-Jan Gomes in 1983 (originally as Disco'83 Sound & Light), the new millennium found the company ready to upgrade from 'home-brew' PA stacks to branded products. Starting with Blackline, DSL moved onto W8C/CS Wavefront Compact subs, WSX subs, and then W8LC Compact line arrays and WS218X subs.
'We like the sound quality and rider friendliness of Martin Audio, and especially the three-way tops,' says Gert-Jan.
If the purchase of the W8LC line array had put DSL on the map, MLA technology has raised the bar. And when Dutch distributor TM Audio arranged a demo of the MLA Mini in Utrecht the brothers were eager to make sure it lived up to its billing: 'We got to play with it by ourselves; the sound of the speakers was amazing and the software is intuitive. 'We had looked at other conventional Mini line arrays but when we heard MLA it sounded a lot better and was more versatile. We can either fly it or pole mount it and we won't get into a situation where the weight is too heavy for the flybars.'
They ordered 16 MLA Mini tops and four MSX 15-inch reflex loaded subwoofers, and – after receiving their induction from Martin Audio's Andy Davies and Simon Honywill – they were ready to go.
'Our idea was to run eight boxes a side, and boost the LF with extra S218X subs when further kick is required for a rock show, or scale it back for an acoustic singer/songwriter,' Gert-Jan says.
The support received from TM Audio also played a key role in the decision-making – and both TM Audio's Rudolf Nagtzaam and the Gomes brothers agreed that given DSL's work profile, the MLA Mini perfectly meets the requirement for a typical production: 'Our customers are already getting used to the fact that we have this system,' says Gert-Jan. 'Technicians keep requesting it and are lining up to use it.'
More:
http://geluids-lichtverhuur.nl
More:
www.martin-audio.com