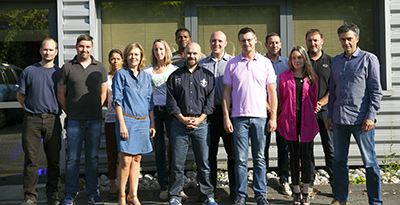 Axente has become the French distribution partner of US manufacturer Symetrix.
Based in Longjumeau in the south of Paris, Axente was established in 1994 to serve lighting and truss manufacturers. Following its move into audio in 2003, the company has added the likes of Televic, EAW and Powersoft to its portfolio.
Symetrix arrives at an opportune moment for both Axente and France's A/V market in general. Demand for processing solutions integrating support for Audinate's Dante media networking technology continues to grow and can be served by Symetrix's SymNet Edge, Radius 12x8 and Radius AEC.
'The Symetrix products' features and support for Dante, creating many new opportunities for us,' says Axente Alain Hercman, Sales & Marketing Director for audio. 'The specialism that Symetrix has developed in DSPs of various types will be a significant technological advantage for us and our partners.'
For high-end, complex installations, Hercman expects the SymNet Radius 12x8 and Radius AEC Dante-enabled scalable DSPs to strike a particular chord. For medium-range applications, meanwhile, the Jupiter fixed architecture turnkey DSP – based around pre-designed 'apps' to reduced configuration time – is predicted to experience rapid market traction. 'We are not a box-moving company; we want to offer partners value-added support throughout their projects and a range of solutions that deliver,' says Hercman. 'With its range of fixed and open architecture products that are really designed with the requirements of the end-user in mind, as well as those specifying and installing DSPs, Symetrix is evidently an ideal fit for this approach.'
'The pedigree of Axente is clear for all to see, and we look forward to a increasing our presence in the French market,' says Symetrix International Sales Manager, Mark Ullrich.