Having closed his costly studio in San Francisco, producer/engineer/musician Gregory Howe opened a 'cozy, less expensive' space in nearby Albany, California. Recently closed for renovation, Wide Hive Studios is back with a second 16-channel expansion of his API 1608 console.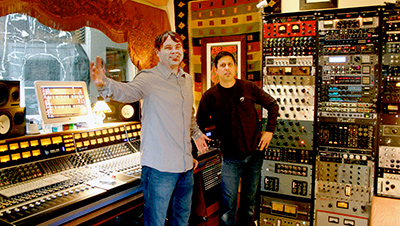 Originally centred on a 16-channel 1608 later expanded to 32 channels, Howe has now added another 16-channel expander to create a 48-channel 1608. 'I've been working with API gear for a long, long time,' he says. 'I love the API sound – to me, it walks the perfect line between cleanliness, straight-up rock, and audiophile fidelity.'
The expanded 1608 streamlines workflow and allows clients to tap into Howe's massive collection of world-class outboard gear: 'The new 16 channels primarily serve as returns from the equipment racks,' he says. 'We now have the flexibility and sound to do whatever we want.'
Wide Hive clients are exclusively from the jazz, funk, hip-hop and soul school, and Howe has already used the upgraded facility to record several tracks, which are receiving airplay, brisk sales and critical approval. Of note, swing jazz guitarist Calvin Keys cut Electric Keys with the help of the 1608 and the Wide Hive Players, an in-house jazz collective.
Reviews of Wide Hive releases have also picked up on the sound quality: 'I'm a huge believer in analogue summing,' Howe says. 'Digital summing involves a massive calculation that necessitates sacrifices. I can hear those sacrifices in the music. I'm looking forward to the cohesion we'll have when the whole console is API.'
More: www.apiaudio.com