Two large regional American festivals were held in Oregon recently, when the five-year-old Bi-Mart Willamette Country Music Festival in Brownsville drew in excès of of 25,000 and the Cape Blanco Country Music Festival attracted 15,000.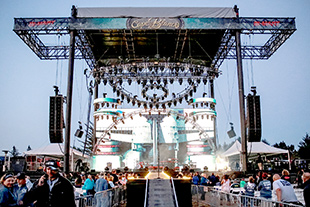 Aside from their country billing and mutual sponsor, the events were linkied by US Audio & Lighting's L-Acoustics K2 system. 'The music sounded excellent in both places,' says Patrick Coughlin, GM of US Audio & Lighting North, the North California branch of one of the largest K2 users in the US.
For the main stage at the Willamette Country Music Festival location, where it has been the SR provider for the past three years, USA&L flew 52 K2 enclosures for its main and out fill, anchored by a 32 SB28 groundstacked subs. L-Acoustics gear was also used onstage, including 115XT HiQ monitors, flown Arcs II/SB28 side fills and 108P stage lip fills. For Cape Blanco, 48 K2 elements served the main LR house, supported by 28 SB28 subs, with LA8-equipped LA-Raks supplying power and processing for both festivals.
Coughlin places High value on the directional flexibility afforded by the system's steerable pattern down to 300Hz: 'It assures us of even, consistent coverage for the audience,' he explains. 'We also like how light the boxes are, which makes transporting and rigging them easier. Plus we like that the 12-inch speaker allows us good control of the low end. It's just a great package, and we were able to run the entire system wirelessly via LA Network Manager. It's unbelievable control. I use no outboard EQ at all; all of the EQ is on the network.'
The L-Acoustics K2 systems will see more actionin coming months followin use at the First City Festival, the successor to the Monterey Pop Festival, they do a schedule of shows that include Diana Ross at the Santa Barbara Bowl and EDM shows at the Event Center Arena in San Jose, culminating in a rave show on New Year's Eve at the Oakland Oracle Arena, which will employ 96 K2, 48 SB28, 24 Arcs and 80 LA8 controllers.
'The K2 is the perfect system for these kinds of shows,' says Coughlin. 'It's easy to move, simple to control and sounds fantastic.'