Held in the southwestern Chinese city of Wulong Chongqing, the Fairy Mountains Music Festival features acts including Wu Bai, Chang Chen-yue, Landy Wen and Qin Yong, a leading singer from Chinese rock band, Black Panther (Hei Bao Yuedui).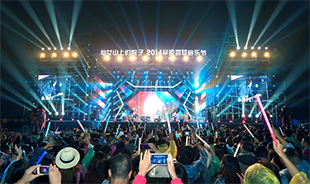 To meet the sound reinforcement requirements for the event's 5,000-strong crown on each day, EAW KF series line arrays were powered by Powersoft K series class-D amplifiers, rigged by rental staging company, Chongqing Stagecraft Sound & Light.
A total of 18 Powersoft power amplifiers were bought from Sanecore, Powersoft's official distributor in China, to complete the job. These included 12 K3 and six K10 amplifiers, which were not only able to provide sufficient power to the loudspeaker systems, but also managed the system's power requirements.
'These compact rack amplifiers offer an amazing amount of power,' says FOH engineer, Hu Dayi. 'More than 85 per cent efficiency results in more amplifier output power. They feature unequalled class-D design with fixed switching mode, so they can work at very low load impedance, and bring great, natural and crystal clear sound.'
More:
www.sanecore.cn

More:
www.powersoft.it
More:
www.eaw.com