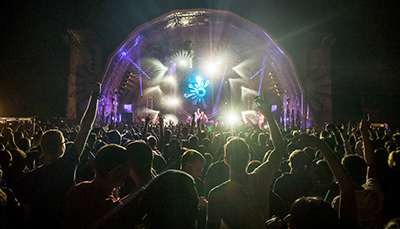 Describing itself as 'the largest bass music and sound system culture festival in Europe', Croatia's Outlook Festival hosts drum & bass, dubstep and reggae acts alongside makeshift stages within an abandoned 160-year-old Fort at Punta Christo.
RG Jones Project Manager Steve Carr is used to hauling Martin Audio loudspeaker systems into the festival's secluded site, high on a hill. This summer he again set up first for the electronica/house event (Dimension Festival), which after a two-day derig/rerig transformed into the main four-day event, the Outlook Festival.
'Traditionally, we used the Martin Audio Longbow, which the promoters loved, but when we moved over to the next generation MLA they immediately noticed the difference,' he reports. 'With so many different musical genres, everyone was remarking on the openness of the sound, and the fact that whatever source was fed into it, MLA would faithfully reproduce; they also commented on the evenness of the sound from front to back.'
With seasoned MLA system tech Mark Edwards working alongside FOH engineer Jack Bowcher (with Tim Wann on monitors), even coverage over the 70m x 45m site was guaranteed – as were containment issues. The bigger challenge facing Carr and his team were building infrastructure in this remote location. 'Because of the site topography, on top of a hill, and only generally accessible by dirt bikes, required a lot of cross loading from the Artics,' he explains.
Featuring acts of the calibre of Busta Rhymes, Barrington Levy and Goldie, the emphasis on Martin Audio's powerful MLX subs, set in a reverse broadside cardioid pattern underneath two MLA hangs of 14 MLA elements per side (boosted by eight W8LC in fills) was inevitable.
Carr plays this down: 'All the sound system guys were obsessed with the subs but we've been able to demonstrate that if the system is well balanced and well designed you don't need to accentuate any particular elements or overhype the subs; we stick to our ideology to keep the system running flat and faithful.'
Stages known as The Clearing and Arena 1 (at Dimension) made way for The Harbour Stage and The Clearing (at Outlook). On the latter stage, RG Jones set up eight W8LC, Martin Audio's compact line array, with 20 WLX subwoofers arranged in a broadside array across the front of the stage (ten wide by two high).
Logistically, after four years the RG Jones team has evolved an efficient work model, relocating some of the subs from Dimension's Arena 1 (second stage) to boost the Harbour stage sub array, when Outlook took over. They had a DJ rig onstage permanently set up, with an Avid Profile desk dedicated to bands and a DiGiCo SD11 house console for DJs. 'We were able to flip flop so the mixing engineers could load their show files onto the Profile without interrupting sound from the DJs. We also gave the DJ's control of their own monitor system by feeding the wedges directly from the booth output from their own mixer.'
Of Martin Audio's Multi-cellular Loudspeaker Array, Carr says: 'MLA is the perfect system for this kind of show, where expectations are so high. We had an arena full of punters not just obsessed with their music, but really in to the sound too. The MLA faithfully reproduced anything we put through it and involved everyone in the arena whether they were at the front or the very back.'