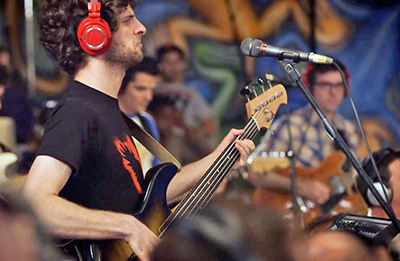 We break a lot of rules, and many times I think the records are better because of it,' says engineer/mixer Eric Hartman, describing his work with Brooklyn-based instrumental fusion band Snarky Puppy. Since hooking up with Snarky Puppy, Hartman has been behind the console for several albums from the ensemble, including the recent We Like It Here.
'We record live with no overdubs,' he explains. 'They'll travel to the recording session, sometimes still writing the songs, and rehearse for a short span of time. Then we will have a number of sets scheduled, two per night for multiple nights, with a live audience in the room, and we will record them all for possible release. They will play a set down, like it's a concert, and after the four days we may have several cuts to choose from, so Michael League [the band's bassist, composer and producer] figures out which ones he likes best based on the performance and the video quality, and proceeds to the mixing stage from there. No overdubs, and close to no editing, and with an eager live audience and spontaneous antics from the band.'
With the band live, Hartman's choice of mics is key to their sound – and he makes extensive use of Audio-Technica. His A-T arsenal includes the ATM450 cardioid condenser mic; ATM350 cardioid condenser clip-on mic; ATM250 hypercardioid dynamic mic; ATM650 hypercardioid dynamic mic; AT4050Multi-pattern condenser mic; AT4060 cardioid condenser tube mic; AE3000 cardioid condenser mic; AE4100 cardioid dynamic handheld mic; AE5100 cardioid condenser mic; AE2500 dual-element cardioid mic; AT4051b cardioid condenser mic; and AT4080 ribbon.

He has put these mics to use in many configurations, but favourites include using the ATM450 for snare and hi-hat ('It's really good at taking a snapshot of an area,') and the ATM350 as a clip-on throughout the ensemble. The AT4051b serves as drum overheads with AE2500 on kick drum. Additionally, he uses the AT4080 on guitar cabinets and certain horn solos, AE3000 on toms and ATM250 on deep snares, and organ bottom.
Aside from serving the studio audience and eventual listeners to the album, the band has an online audience, since sessions are almost always filmed and posted on YouTube or as video releases. To add some flash, a decision was made to try out a new set of A-T headphones, the ATH-M50RD studio headphones. 'They are bright red, and they really popped on camera, adding a very cool aesthetic, 'Hartman recalls. 'And I'm a bit of a headphone snob, and the ATH-M50's provide the hi-fi reference that I need in a lot of situations. So they're what we need sonically, with that extra bit of visual flair. Perfect for this last set of sessions we did.'
'It's been a great ride so far,' he reflects. 'I'm glad I answered that call from the band in 2007, because I almost didn't! I've gotten to see this band grow their fan base and budgets and get better as an ensemble. Sometimes we walk into a situation with very little and just make it work somehow. And A-T products have been a cornerstone of my workflow through it all.'
More: www.audio-technica.com