Tannoy VQ loudspeakers and Lab.gruppen PLM amplification formed the heart of an extensive sound refit at the Ballei Sports Centre in Neckarsulm, Western Germany. Used for handball and other spectator sports, the venue turned to local pro audio and sound reinforcement specialist Joe Ritter and his company, Ritter Medientechnik, to handle the task.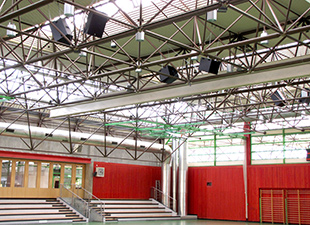 Ritter Medientechnik was initially approached to assess the centre's superannuated PA system in 2013, with a view to upgrading: 'However, the system was very old and had already been upgraded many times,' explains Ritter. 'So I said an upgrade didn't make any sense. And then we went to a tender process. I was up against a powerful local dealer of another brand…
'The alternative was a line array from the other company — but that wouldn't make much sense in the Ballei, because it's fairly small, and so the distances involved aren't that great,' he continues. 'And line arrays aren't appropriate for every application, as people these days seem to think! In this case, the Tannoy system works much better; the vertical dispersion from a line array is very narrow, but we needed the exact opposite here. With a 100° conical Tannoy system, we covered a wide area — the main hall and the spectator seating — in a very uniform way, without needing any fill-ins. The point-source nature of the speakers was ideal here, and has the effect that you can hear music or speech very consistently throughout the venue.'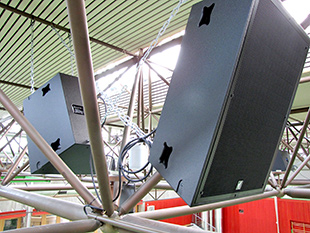 Six Tannoy VQ100 speakers have been installed arranged in three pairs, with four VSX18DR subwoofers distributed strategically around the hall. 'We used six VQ cabinets because the sports hall can be sub-divided into three sections,' Ritter explains. 'A curtain comes down to divide the hall up for schools, so they can do different sports in each section. In each section, the VQs are placed back-to-back, one covering each section of the handball field, and the other facing the spectators for that section.'
Ritter also has a long track record of using Lab.gruppen amplification, as he finds them very dependable. He contacted TC Group's German National Sales Manager Markus Portsworsnick for advice on which specific models to use, and Portsworsnick suggested the PLM series — specifically, three PLM 10000Q amps —with built-in Lake DSP processing. 'The Lake processing is not used by the client,' he says. 'I set it all up using the Tannoy presets when the installation was complete. Once you know how to use it, it's quite easy.'
Overall signal routing and management at the Ballei centre is handled by a Peavey Media Matrix system. The end-users at the Ballei centre use the Peavey MX16 to determine which of the three sections in the hall are active, how they are fed, and whether the subs in each section are on or off.
The simplicity of the completed system has won praise from the regular users of the Ballei Sports Centre. 'It's a great system, everyone likes working with it,' concludes Joe Ritter. 'Connecting up a laptop to provide music in the hall is easy, it's dependable and it sounds great.'