Vacaville's Theatre DeVille has installed a new sound system using a Meyer Sound JM-1P arrayable loudspeaker system, Yamaha CL5 and CL3 digital mixing consoles for FOH and monitors respectively, and Shure ULX-D digital wireless systems.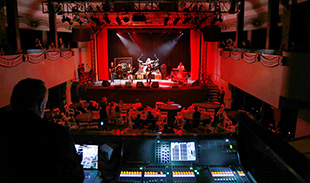 The California venue is housed in an 88-year-old building that was formerly a movie house and a church, which has been transformed to what a guest described as 'our jewel of the downtown'.
Designed and installed by One Way Media Solutions, the loudspeaker system comprises ten JM-1P loudspeakers, two 1100-LFC low-frequency control elements, and two 600-HP subwoofers. Five UPJunior-XP VariO and two UPA-1P loudspeakers provide stage lip and balcony fill, respectively, while system drive and alignment is provided by a Galileo loudspeaker management system with one Galileo 616 processor. Artist foldback comprises eight UM-1P stage monitors, while an MJF-212A stage monitor and a USW-1P subwoofer are used for drum fill.
'The room here is narrow and deep, and the JM-1P configuration is ideal for filling this space,' says Theatre DeVille Production Manager, Ryan Snyder.
'The JM-1P system really has exceeded all expectations,' adds Royce Farris, CEO of DeVille Enterprises, the venue's management firm. 'There's not a bad seat for sound anywhere. I usually stand by the front door after the show, and I'm surprised by how many people stop, shake my hand, say how great it sounded, and tell me they'll be back again.'
'A Meyer Sound solution was chosen both because it was rider-friendly, and the company's quality and support are unrivalled,' says Masaki Liu of One Way Media Solutions. 'We chose the JM-1P largely because the balconies sit right in line with where line array long throw boxes would sit. The JM-1P allows us to distribute the audio while still retaining the clarity and punch that touring engineers demand.'
More: www.meyersound.com
More: www.yamahacommercialaudio.com
More: www.shure.com