Based in the The Hague area of the Netherlands, Flowsound is a fast-growing rental company that operates throughout Western Europe. It's most recent acquisition is a DiGiCo SD10 mixing system.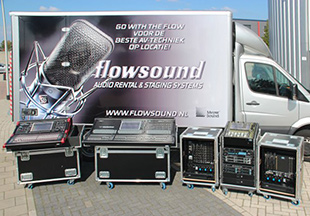 'After investing in an SD11i and SD9, plus D-Rack and Madi-Rack, in 2013 we saw an increasing demand for DiGiCo solutions,' says Flowsound owner, Floris van den Berg. 'Engineers and sound designers specifically ask for DiGiCo because they are very happy with the sound quality, the intuitive interface and wide range of features.
'We quickly decided to add an SD10 to our inventory due to our growing list of clients – which includes festivals, orchestras, musicals productions and corporate events. With its high fader count, high input and output bus counts, the SD10 is the right addition to our rental stock.'
Just a few days after the investment in the new system, it was at the Norton Culinair open air festival in Zoetermeer in the West of Holland, which featured a large number of high-profile Dutch acts including The Delft symphony orchestra, the Dutch Marine orchestra, The Clarks, The Raspers and Rene & the Aligators.
'The SD10 we delivered has the Optocore network already implemented, to accommodate the growing demand for Optocore solutions in the Dutch market, and with a clear view to the future,' says Jaap Pronk from DiGiCo's Dutch distributor, TM Audio. 'Video signals, controls, networking and intercom are combined with a high channel count of more than 500 channels. The new D2-Rack delivered with this system has 48 mic/line inputs and 32 outputs, all runnung at 96kHz, 24-bit resolution. Connection of the D2 is via BNC Madi.'
'We deliver high quality, dedicated audio solutions and DiGiCo gives us the tools we need,' Floris concludes.