A new 6,000-capacity multi-sports venue has opened in Toruń – an important city on the Polish sports map – the US$40M Toruń Sports Hall.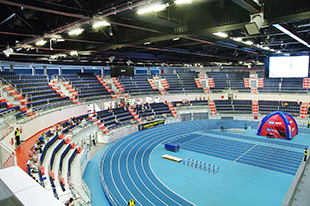 Marcin Zimny of Tommex Żebrowscy was the designer and project manager for the EN 54-24 certified audio system. With Tommex handling system design and commissioning, the installation was handled by Łódź-based IRBIS. 'They are a very professional company and did a great job installing the system to the highest standards – an important factor for ensuring quality and long-term reliability, ' Zimny says.
The venue's capacity can be expanded to 9,000 when required. 'Community R Series is always our first choice of loudspeakers for stadia and large scale sports venues,' Zimny explains. 'Our assessment again confirmed that R Series would be the optimum solution for the Toruń Sports Hall. EN 54-24 certified versions of R Series models were used to cover the seating, which is a full 360°.
'Eight R2-77Z loudspeakers were employed for the seating areas down the length of the venue, and a combination of six R1-94Z and fourteen R1-66Z loudspeakers for the shorter ends and the sports competition field. Being EN 54-24 certified, these loudspeakers met the specification required and their outstanding audio quality fully satisfied the venue's announcement and entertainment needs.'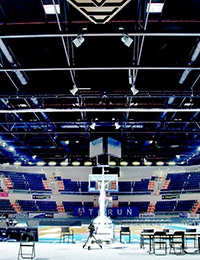 The system is managed by a g+m elektronik APS-Aprosys voice evacuation system and also uses the new g+m 500W class-D amplifiers to power the Community loudspeakers.
'Like all of our EN 54-24 projects, when pro sound meets voice evacuation we design the system with two independent channels,' Zimny says. 'This provides a signal for voice evacuation directly from the microphone desk or message memory to the APS-Aprosys, as required to meet the regulations and certification. A second signal for pro audio goes from the commentary desk via two Community dSPEC226 processors directly to the amplifiers. For the Toruń Sports Hall we used a 2-input/6-output dSPEC226 and a 4-input/6-output dSPEC226AN, giving us a total of 12 output channels for optimization of the signal to the loudspeakers.
'Combination EN 54-24 and multi-purpose PA projects are increasingly becoming the standard in Poland,' he adds. 'We take safety and entertainment equally seriously and Community's R Series are perfect for such systems. Large numbers of people simply enjoy the events with superb audio quality whilst the venue operator knows their safety is being fully provided for.'