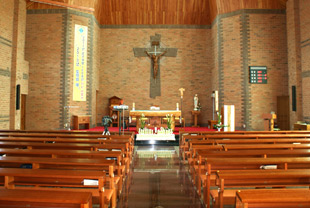 With an audio set-up it described as, 'flat and dry sounding, lacking clarity and difficult to hear for many in the church', the Joongri Catholic Church in Gumi Province, Korea commissioned Bo-sung Electronics to design and install an entirely new system.
Having a long sanctuary with highly reflective surfaces, Bo-sung was careful in the selection of the loudspeakers that were to replace the old system of 'unsophisticated' columns. The needed high intelligibility, with wide horizontal but tight vertical dispersion. To meet these requirements, it chose Community's Entasys.
Each Entasys full-range column includes six low-frequency neodymium drivers, 18 2.35-inch mid-range drivers and six 7x1-inch planar-coupled Compact Ribbon Emulator high-frequency elements. Its power, throw and coverage proved to be so efficient that only two units were required. 'The improvement is remarkable and the church is very pleased with the new system,' says Danny Jung of Inter-M Corporation, Community's Korean distributor. 'The sound is full and clear with excellent intelligibility and coverage for the voice of the Pastor.'
Orignally Built in 2004 at a cost of around US$1.2m, Joongri Catholic Church comprises 1,725-sq-m over two floors. An auditorium room is situated on the ground floor and the first floor houses the congregation seating and offices.
More: www.inter-m.com
More: www.communitypro.com