Apex has appointed Main Gear Supply as its distributor for The Netherlands, continuing the expansion of its European network.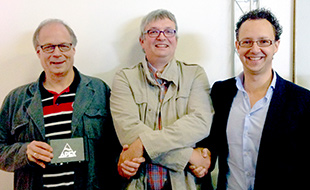 'We feel Main Gear Supply can do a great job for us and our products in the Netherlands,' says Apex MD, Paul Van Hees. 'GiVa Audiovisual Technologies BVBA, parent company of Apex, is committed to developing new products and building strong partnerships with our distributors so that the market can benefit from our innovations in audio.'
The relationship with Main Gear Supply was struck between Managing Director Bob Offenbach and Salesman Huub Hermans at the 2014 ProLight & Sound show: 'Bob and Huub immediately understood our products and shared our vision,' Van Hees says. 'They are excited about our audio ranges, and product quality, which makes us very excited about Apex's future in The Netherlands.'
Main Gear Supply (MGS) is a distributor of professional lighting and audio gear and offers a well-considered range of brands to the Dutch market.
'I've worked with Apex products for many years, and they've always been reliable with great audio performance,' says Hermans. 'I'm incredibly impressed with their speaker management processors and audio levellers, which to me are unique. I'm excited that MGS is now able to offer Apex products into the Dutch market, as we have a range of rental companies in need of top quality audio products.
'Last week we applied Apex's digital processors to our Next speaker systems and used them on the Rozen Festival in Lottum – everybody was very excited about the overall sound quality.'
More: www.maingearsupply.com
More: www.apex-audio.eu