Having spent most of 2014 on tour across Europe and the US promoting their latest album Mechanical Bull, the Kings of Leon have thoroughly tested their current package of Sennheiser microphones and in-ear monitors.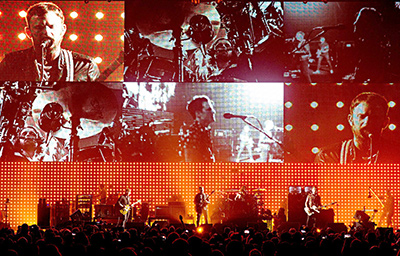 The vocal microphone of choice has remained unchanged for the past six years – the MD 431. 'We have the MD 431 on all of the guys as it is very stable and has a very nice frequency response for vocals,' says monitor engineer, Saul Skoutarides.

'It also suits Caleb [Followill, lead singer] better than any other microphone we have tried in the past – which is part of the reason we stumbled upon it in the first place.'
'It's very hard to go wrong with Sennheiser,' agrees FOH engineer Brent Rawlings. 'One of the best parts of this tour for me has been rediscovering the 421 – that's how a tom is supposed to sound.'
For monitors, ten sets of twin-channel SR 2050 in-ear systems are used by both band and crew: 'The 2000 series is far superior in terms of audio quality to anything else,' Skoutarides says. 'They are also more reliable than anything I've used before, in my opinion they really are second to none.
'The guys at Sennheiser UK have always been very helpful and supportive over the years,' he adds. 'They are always willing to go the extra step to make something better. That includes listening to our needs as an end user and reacting accordingly, or just putting out a great product in the first place.'
More: www.sennheiser.com