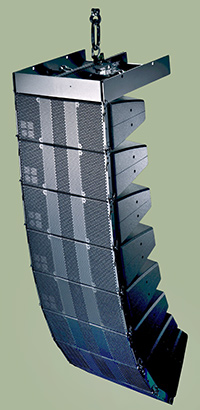 London-based corporate A/V specialist Anna Valley Displays has taken delivery of a large-scale loudspeaker system focused on the d&b audiotechnik T-series – taking advantage of its ability to be configured as a point source or line array system.
Orbital Sound supplied the system, which is required to serve a diverse range of corporate and event applications. It comprises of 12 d&b audiotechnik T-10 loudspeakers, four B-4 Subs and four D-6 amplifiers.
'We are seeing considerable growth in the corporate sector, and wanted an in-house solution that we could deploy quickly, with a high degree of versatility, to cover the broadest range of venues and applications,' explains Andrew Newport, Project Manager on Anna Valley's Corporate Events division.
'The T-series from d&b audiotechnik successfully met our requirements – it's very powerful for its size, delivering excellent clarity and coverage from its unobtrusive footprint. The flexibility of its line array or point source configuration option was the deciding factor, and it's an ideal complement to the video side of our work. We can now satisfy our clients' requests efficiently and conveniently, without having to hire in extra kit. We have developed a good working relationship with Orbital over the past year or so - they have helped us out many times, and our purchase of the d&b audiotechnik system is a natural continuation of that relationship.'
Since acquiring the system, Anna Valley has used it at a number of press launches, including a project for Sky to promote the new season of the television show Veep. At this event, held in a garden setting, Newport configured the front-of-house system with six T-10s per side in line-array format. These were mounted above the B-4 Subs, while two clusters of two T-10 units were used as delays.
Anna Valley Displays is part of the Shooting Partners Group, which has a 20-year background in the broadcast and entertainment industries, and specialises in large-format LED and projection work. The Group also has an installation division, which has carried out television studio installations in the UK and abroad, including projects for the BBC, Sky Sport and Sky News.
More: www.annavalley.co.uk
More: www.orbitalsound.com
More: www.dbaudio.com