Airing music festivals, comedy, current events and mixed martial arts promotions, US cable network AXS TV has recently installed a Studer Vista 9 M2 QS console as part of an upgrade of its largest OB truck.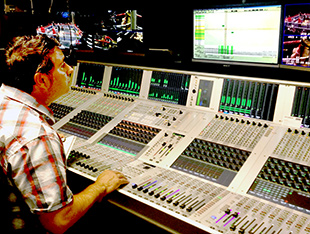 'The console interconnects with all our other units via Madi, and works very well for multitrack recording and mix-downs,' says Technical Producer and Flyaway Engineer Jeff Carman. 'What we got was impressive, and we found the fit and construction of the console to be incredible. After using a Studer Vista 5 console in our LA studio, I deeply respect Studer for doing things well, which was one of the main reasons for this purchase. More importantly, the support from Studer has been excellent.'
Carman wanted a digital console that could not only fit into the existing Madi infrastructure, but also provide the expandability of additional inputs and outputs. He has set up the console with a 24x24 Stagebox for shows, including recent mixed martial arts broadcasts as well as AXS TV's premier music festival events.
'We noticed that the board configures easily when we tried to add new modules several hundred feet away,' says Dan Nabors, AXS TV Engineer in Charge. 'With this console, we are also able to only use fibre-optics, eliminating copper altogether. After changing configuration to a different output card, the Studer Vista 9 looks great, sounds great and is quite user-friendly.'
More:
www.studer.ch