Among a series of sound installations handled by South Korean distributor DasanSR, Club Muuto now features a loudspeaker system using EAW and Powersoft.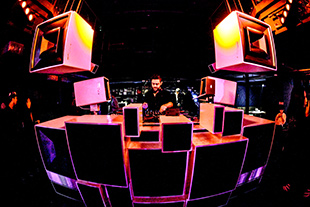 Located beneath the chic Club Vanguard at the Ramada Seoul Hotel, the venue itself had specified the choice of Powersoft amplifiers: 'I have used most leading brands of amplifiers in the past, and chose Powersoft based on my experience in matching top loudspeaker brands with these amplifiers,' says Club Muuto Director, Im Jinwoong. 'I also prefer Powersoft because of the purity of the sound, and the K series is well known for its high output from chassis that are light, and compact, and have low power consumption.
'At Club Muuto, both HF and LF requirements are satisfied by their K series amplifiers – particularly the low frequency when matched with the woofer.'
The club's main stage is served by four EAW Club.two speakers powered by a pair each of Powersoft K2 and K10 amplifiers, while its four EAW Sub.two are powered by four K10 amps. For the eight EAW Club.five delay speakers and two Club.four back stagespeakers, DasanSR used K2 amplifiers, while the MF and LF sections of the Club.three DJ monitor are run by a Powersoft K2 and K10 respectively.
The flagship of Powersoft's technologies, the K series switch-mode amplifiers offers various power ratings across six models – ranging from 2 x 2.4kW/channel @ 4Ω to 2 x 9kW/channel @ 2Ω, while maintaining the 1U size to deliver power with the lowest weight and highest efficiency.
More: www.dansansr.com
More: www.powersoft-audio.com
More: www.eaw.com