Steve Levine has been mixing tracks recorded live at the Assembly Point Sessions during the Liverpool International Music Festival, which include performances by Boy George, Mark King and Bernard Butler– as well as Levine himself demonstrating a live recording session. Central to the mixing is a newly acquired Audient ASP880 microphone preamplifier/converter.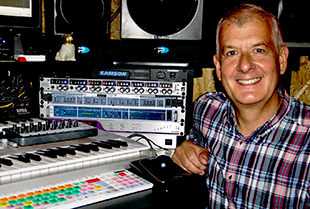 'I used ASP880 on drums for the pre-production for the real-time session, and I'm now mixing the live tracks for the video with the Audient unit,' he says. 'One of the reasons I chose the ASP880 was because of the digital inserts.
'I'm using it as a way of adding eight analogue outboard legacy effects such as the H3000 – which bands really love – or my AMS Phaser, both when recording and mixing. I can just plug them into the ASP880 inserts and they come into my desk digitally. It's as simple as that.
'As I have a rather large patchbay, I liked the idea that the AD/DAs are on D-subs. I have one or two legacy synthesisers and in order to start 'fiddling around' with those, I can just use the ASP880 as a stand-alone converter and patch them in digitally.'
Levine's Liverpool studio, Steve Levine Recording, is centred on a digital mixing desk, making the ASP880 a neat complement: 'Another great thing about the Audient is that it gives me eight more high-quality mic inputs via Adat, allowing me to increase the number of inputs I have available – in addition to my console – which is useful for those big sessions.
'The variable high-pass filter on the ASP880 is very handy for me, as I have an Audio-Technica 5040 mic which doesn't have that option,' he adds. 'I'm a big fan of Audio-Technica ribbon mics and I like the fact that with the ASP880 you can flip the impedance and change their character. This is particularly noticeable, for example, on guitar cabinets. You can make a duller tone or a brighter one, which if you're doing an overdub gives you an additional feature.'
With Levine's ties to Liverpool Institute of Perfoming Arts (LIPA), students are also regular visitors to Steve Levine Recording: 'I want the students to be able to see, hear and compare different mic preamps, and the fact that the Audient has the variable impedance and variable high-pass filter is definitely something worth showing.
'The feature set is just great,' he continues. 'There are a couple of additional features on the ASP880 that made it the better unit in terms of what I needed. I've used the DI inputs on the front and those sound great; they're good at isolating noisy synthesizers because the grounding is good. I've got quite a lot of DIs and I think these are as good as anything else I've got.'
Levine relocated his studio to the Baltic Creative Campus in Liverpool just under a year ago, which provides the producer with more space in the control room than he's used to – and more space means more gear. Yet the ASP880 with all its versatile and unique features is conveniently compact, taking up of rack space. 'The question now is whether I can get any more,' says Levine eyeing the spaces in his rack.
More: www.audient.com