Creating more than 21,000 hours of television and more than 30,000 hours of radio annually, IMG is the largest independent producer of sports programming in the world. Its biggest programme of 2014, however, has been the relocation of its UK operation to new facilities on the outskirts of London, and the installation of what is reckoned to be the largest digital audio network currently being used by any broadcaster.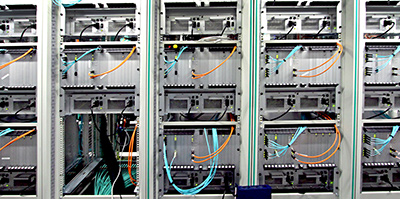 Requiring 'everything everywhere', the network is centred on a Lawo Nova73 router using net links to serve no fewer than 15 mc²56 MkII digital mixing consoles.
All studios, production galleries and client service areas are conveniently situated within close proximity of each other on the ground floor of the new building. Taking just nine months to build, equip and commission, the facility includes four HD broadcast TV studios ranging from 1000-sq-ft to 2,000-sq-ft. With just six weeks allocated for the installation, the Lawo system was first assembled at the premises of system integrator TSL, where it was tested and fine-tuned ahead of delivery.
Using the Nova73 at its core, the system originally included 12 consoles – a combination of 48-input mc²56 MkII consoles for larger productions, such as coverage of Premier League football for Sky, and 32- and 16-fader consoles for less demanding operations including radio and web streaming. In addition to the central router, each of the consoles has its own Nova73 allowing all of the facility's resources to be shared by all of its mixing consoles. 'The system had to be fully networked and very flexible because of the wide range of TV clients. All consoles, servers and EVS system had to be connected, as well as studio stageboxes and break-out boxes,' says Tobias Kronenwett, Lawo International Sales & Project Manager. 'The network has about 3,500 inputs and outputs.'
Effectively a new build, the flexibility of the new facility enables it to serve almost every production genre in both broadcast and corporate markets. The studios are built around a completely digital MCR with full connectivity to all IMG Studios operations, and more than 200 HD links to companies such as Arquiva, Globecast, EBU and BT. The post production facilities include 72 edit destinations integrating tapeless workflows from acquisition through to delivery for transmission and archive.
IMG had been in talks with Lawo five years ago, but had chosen another manufacturer's consoles. But its requirements are now beyond the reach of other systems, according to Kronenwett: 'If it tests our capabilities, I think it's beyond what other manufacturers can offer,' he says.
Even with requirements that took 'detailed talks' to resolve, the system operates without the need for any custom software. 'It is 100% standard software,' Kronenwett confirms. 'Such a generic means of networking means that we can interface with almost anything, and it is easy to implement for them.'
Specifically, the initial installation covered three main studios equipped with 48-fader mc²56 MkII consoles, eight live galleries with 16-fader mc²56 consoles, Live Gallery A with a 32-fader console, Radio Studio 1 with a 32-fader console, and Radio Studio 2 with a 16-fader console.
But, before completion of the installation, the order for 14 consoles had increased to 15 – and the indications are that still further expansion of the system is to follow.
'The network of 14 audio consoles at IMG is at an unprecedented scale within the UK,' says Tim De Marco, Head of Technology – Live Galleries & Studios at IMG. 'The configuration and ongoing support from Lawo has helped make our move to Stockley Park much easier – we are very proud of what we have achieved.'
More: www.lawo.com