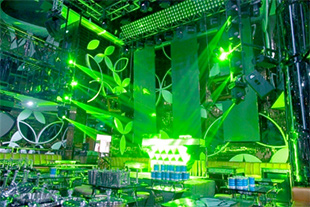 Part of a chain of 18 chic Muse nightclubs that have appeared around China, S.Muse has opened in the Binhai New Area (formerly Tanggu) in Tianjin. The 600-capacity, two-level venue is fitted out with an EAW Avalon dedicated club loudspeaker system. This is processed through EAW's UX8800 DSP controller and accompanied by an Allen & Heath GLD-080/X live digital mixing system.
The main PA comprises four Avalon Club.two full-range loudspeakers firing down onto the dancefloor. The cabinets' broadband directional control that creates high SPL on the dancefloor with minimal spill onto walls and ceilings. Four Avalon Sub.two subwoofers drive the low end of the system. A hybrid subwoofer, the Sub.two delivers extreme extension and the physical impact required by high-end nightclub applications.
Four compact Club.four loudspeakers serve as monitors for the DJ booth, and 14 EAW JF59 and ten EAW LA128ZR loudspeakers deliver music to the lounge areas on the first and second floors. The nightclub system usees two EAW UX8800 digital signal processors with Avalon presets to maintain sound quality while achieving maximum output levels
'We demonstrated Powersoft's reliability and high output, with an impressive power factor of more than 0.95,' says Alan Ho, from Sanecore Audio, Powersoft's Chinese distributor. 'We also stressed the high signal-to-noise ratio and damping factor, with four presets onboard and selection button.'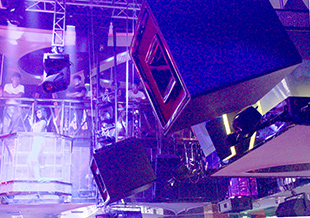 Other important considerations for the installation were rack space economy – the 1U-high amps contributed to the overall efficiency of the system. The Powersoft solution won through on the strength of its built-in DSP, with each channel configured fully parametric EQ, and clip limiter. The Ethernet interface enabled simple system set-up, monitoring and control.
Four Powersoft K10 amplifiers (2kW/channel into 8Ω) were used, along with 22 K3 (1.4kW/channel into 8Ω) and nine M28Q 4-channel amplifiers (360W/channel in 1U). All these amplifiers offer remote control and advanced signal processing abilities through Powersoft's Armonía Pro Audio Suite.
'I think the performance of the EAW Avalon loudspeaker has pushed the sound effects of our club to their extremes,' says club manager, Mr Sun. 'Avalon is the most amazing dedicated sound system I have heard so far.'