Fibre-optic network specialist Optocore has chosen Audio Solutions to distribute its products in Russia. The 12-year-old Moscow-based company will provide Optocore solutions to two core markets – sound reinforcement, covering theatres, concert halls, live events, and broadcast.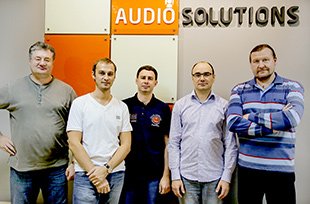 In addition to a formal distribution arrangement with Optocore, Audio Solutions is also working on a major project, using sister company BroaMan solutions for delivering scalable custom solutions for clients requiring SD/HD/3G video routing.
According to Pro Audio Department manager Igor Kovalev, adding Optocore to the company's brand portfolio was an obvious step: 'It represents a good price-performance ratio when compared with other brands, along with amazing flexibility and scalability, and extremely high sound quality. It will allow us to implement modern digital optical network technology, with all its advantages, and to replace noisy long analogue runs in existing cultural buildings.'
The relationship between the two companies began in 2013, when Audio Solutions specified the brand for a major concert hall installation and later took delivery of a demo set prior to formalising the dealership agreement.
Audio Solutions was founded at the end of 2002 by a group of pro audio experts, jointly engaged in the design, installation and distribution of professional audio equipment. The company quickly expanded its range of customers and suppliers, offering its services to sound recording and mastering studios, concert halls, theatres, educational centres, broadcast radio and TV companies. Since then, it has handled than 100 different projects.
'Optocore responds quickly to any technical challenges,' says Kovalev. 'We receive good sales support and very good informative training, through Applications Engineering Manager, Maciek Janisewski.'
More: www.audiosolutions.ru
More: www.optocore.com