One of the largest music festivals in Spain with audiences regularly topping 100,000, Primavera regularly calls on audio provider Twin Cam Audio to equip its Parc del Fòrum site in Barcelona. For the 2014 event, L-Acoustics systems served five of the festival's seven stages.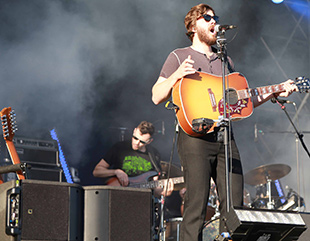 Twin Cam Technical Director Juan Cid and L-Acoustics Touring Application Engineer Frédéric Bailly design the set-ups for all stages, calling in Twin Cam's new compact K2 audio system. The main stage Sony Stage used LR arrays of 12 K1 and four K1-SB per side, with two hangs of six K1, two K1-SB and three Kara for out fill, ten Kara for front fill, K2 for LR delay and 22 SB28s fore low-end reinforcement. Four Arcs II with a pair of SB28 subs were used for stage side fill. The system was powered by LA8 amplifiers.
'It delivers an identical sonic performance to K1 in a more compact footprint,' says Twin Cam Director and owner, Rafael Campos. 'K2 is lightweight, so it's very quick and easy to get onstage and ready to go.
'Primavera imposes a strict limit of 102dB at FOH, so our big challenge is to maximise those dBs at every point where there are spectators. K1 and K2 together allow us to cover the festival with the most homogenous response possible and so we get to deliver superb audio to festivalgoers, while keeping the neighbours happy.'
For the ATP Stage, two hangs of 14 K2 elements were set per side, with six K1-SB and Kudo boxes for out fill and delay. The Vice and Pitchfork stages, meanwhile, used two complete Kara systems while the Heineken Hidden stage used an Arcs Wide and Focus system.
'The systems are designed to cover crowd areas like a glove,' Campos says. 'Before the show, we used L-Acoustics SoundVision to predict how sound would feel in all corners of each of the five stages, allowing us to get optimal performance out of all our rigs.'
The pressure of a major festival with multiple stages is most acute at the production level : 'The magnitude of the transportation, the crew, and the schedules is multiplied by five hère – that translates into extra stress at our end,' Campos says. 'Because K2 offers almost the same sonic signature as the K1, but with less size and weight, we are able to assure that we get those stages up and running in less time. It's been a real revelation for our crew.
'Audiences demand more immersion and more dynamic performances which means the proportion of subs has constantly grown over the years. We can deliver that with this new L-Acoustics system. It allows us to get quality sound right in their faces, even at the distances we are dealing with. The power and clarity are just phenomenal.
'The festival organiser has to have confidence in us, and in the product, and I'm proud to say that this year, we received the highest praise ever. The K1/K2 punch was unstoppable, and we were in a different league than the other stages – an opinion shared by organiser and audience. The only question that remains from this year's Primavera is how to better it next year.'