Famed for its hosting of the annual Kentucky Derby, Churchill Downs racetrack required a new sound reinforcement system for all outdoor areas of the facility in readiness for the 140th running of the Kentucky Oaks and Kentucky Derby. Calling on the design services of Marsh/PMK International, the system that was devised made extensive use of a Lectrosonics TM400 Wireless System for Test and Measurement.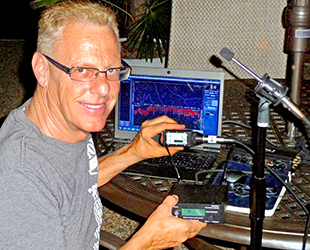 'The scale of this project and the tight schedule presented significant logistical challenges,' says company President David Marsh. 'These included having to work around horse training and a host of other activities during the four weeks or so leading up to the Kentucky Derby. Use of a wireless system was the only practical way to measure in the many different outdoor areas covered by the sound reinforcement system as part of testing, adjusting and final commissioning.
'We used the Lectrosonics wireless link with an instrumentation quality microphone, the iSEMcon model EMX-7150,' he continues. 'The TM400 wirelessly connected the microphone to our Smaart 7 measurement platform, which was used for area-by-area delay setting and system equalisation. For this, we had to move the microphone around in a given area and average the measurements before moving to another area. One only needs to picture the size and layout of Churchill Downs to appreciate why we had to use a wireless test link.
'Because the wireless system would be used strictly for acoustic and sound system testing, it was of paramount importance that signal integrity be maintained from the input of the transmitter to the output of the receiver,' he says. 'It hardly makes sense to use a microphone meeting the tight tolerances of ANSI Type 1/IEC Class 1 unless the wireless system has a flat frequency response and low noise. Likewise, it was critical that the original signal dynamics be preserved. Any type of dynamics processing – such as companding, commonly found in other wireless systems – would be out of the question. The robustness of the TM400's RF front-end was important for measurement reliability as was the distance over which the system could reliably transmit. Use of standard XLR connectors at both ends and provision of 48V phantom power were icing on the cake.'
Before turning his attention back to forthcoming projects, Marsh adds: 'We recently used the TM400 on an acoustic/electroacoustic study we are doing for the Arizona Cardinals at the University of Phoenix Stadium. Again, the equipment worked without a glitch. I am very happy with the Lectrosonics TM400 system and plan to purchase several more so we can be entirely wireless in a multichannel measurement set-up.'