Rental and event production company show-concept.ch has become the first company in Switzerland to invest in JBL's new generation VTX system, with the purchase of a VTX V20 line array system and additional Crown amplifiers from Harman Professional distributor, Dr WA Guenther Audio Systems.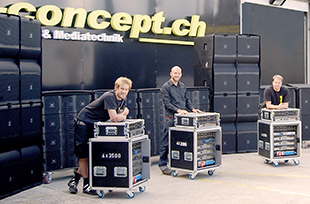 Known for its work in the corporate sector, the company's aim is to migrate into concert touring with a range of sound, lighting and technical services. 'The main reason for purchasing a new system was to take a step forward in tour sound – and, of course, to be up to date,' says show-concept.ch audio engineer Cyril Schmuki, adding that its new front line PA system will be backed-up by other systems, including three complete VerTec rigs.
After running JBL's VerTec in its inventory, the company has taken 16 JBL VTX V20s and eight each of the VTX S25 subs, and also added four Crown I-Tech 12000HD and 12 Crown I-Tech 4x3500HD amplifiers to its existing Crown I-Tech HD inventory.
VTX V20 features the technology of VTX V25 in a smaller format. The high power density of this three-way system is complemented by a new ASM suspension system that provides efficient transport, fast set-up and precise configuration. Using Differential Drive technology and a small-format version of the D2 dual compression driver, the integrated v5 presets help otimise the processing of the Crown I-Tech HD amplifiers.
'The handling and the rigging system were what we especially liked,' Schmuki says. 'This and the new JBL HiQnet Performance Manager software were the main advantages.'
The sale was supported by Dr WA Guenther Director of Sales, Felix Alpstaeg, and Application & Project Engineer, Jaromir Ott. Already familiar with VerTec and Performance Manager for system configuration, monitoring and control, the production company is nevertheless planning advanced training in conjunction with Dr WA Guenther for next year's festival season.
'I've never heard a system which is so precise over the whole frequency range; and what is absolutely astonishing is to stand behind the array, because it's just so quiet,' says Schumuki.
More:
http://show-concept.ch