Symetrix has appointed Pro AVLS as sales representative for Latin America and the Caribbean.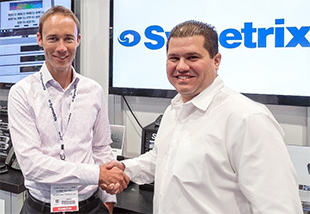 Based in San Juan, Puerto Rico, and with an office in Margarita Island, Venezuela, Pro AVLS has expertise spanning more than 20 years, and takes on sales of the Jupiter line of fixed-architecture standalone DSPs, and SymNet open-architecture Dante scalable DSPs.
'As Symetrix continues to grow globally, one of the next steps in this expansion was the addition of a dedicated sales and technical resource for Latin America,' says Symetrix International Sales Manager, Mark Ullrich. 'Pro AVLS was the natural choice for us in the region. Alex Rojas, president, has served as a Symetrix dealer with Caribbean Broadcast Suppliers, thus he and his team are already familiar with our product line. Both Alex and his colleague Guillermo Sánchez, based in Venezuela, also had tenure at Harman, so they are well versed in the sale and support of DSP solutions.'
'There is a strong need for versatile DSP platforms in the region,' says Pro AVLS Sales Director , Guillermo Sánchez. 'Although there are many players in the market, we wanted to partner with a manufacturer that would give our customers an edge against competitors in terms of usability, compatibility, audio, reliability and price.'
'Low-cost, turnkey products like Jupiter, an app-based DSP, are perfect for everyday installations, while the increased flexibility afforded by the SymNet line, including Edge and Radius AEC, can offer a scalable Dante-enabled solution for larger, more complex projects,' he adds. 'Symetrix can stand proud as it provides a product to solve every possible challenge and fit within every possible application.'
'As we work together to bring market-leading DSP solutions to our customers, prospects and friends, they will see the benefits of Symetrix products and the benefit Pro AVLS brings to their toolset,' says Pro AVLS President, Alex Rojas. 'We are very proud of representing a brand with such great heritage and respect in the audio industry,' he says.
With this new appointment, Symetrix expects more focus on and support of its existing distribution arrangements in the region. 'We're also looking forward to incrementally adding new strategic partnerships to ensure Symetrix has the most competitive positioning possible in Latin America,' says Ullrich. 'Latin America is a vast and dynamic territory, so taking this next step with a dedicated sales and support resource will help Symetrix fulfil the opportunities that exist.'