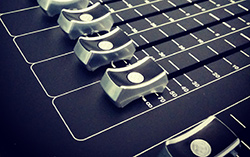 Nicolas Kyvernitis Electronics Enterprises (NMK) has announced a further series of demo sessions for the Midas M32 mixing console to serve audio companies in the Gulf region.
The M32 live and studio digital recording system offers 40-input mixing console using the same mic preamps as found on the Midas Heritage consoles and a variety of connectivity options.
'Since our first demo sessions, we have received the inquiries from UAE, Qatar and Bahrain,' says NMK's Midas/Klark Teknik Product Specialist, Pramod Manerikar. 'The advantage of ongoing demo sessions is that clients have the opportunity to keep a console for a few days at their warehouse in order to test all the features of the mixer. During demo sessions they become familiar with console, experiencing the quality of preamplifiers and Midas build. The desk itself is very simplified and it takes a few minutes to gain knowledge of the basics.
'In the past year we sold around 14 Midas Pro-Series for the Middle East market,' he adds. 'I believe that every third console you see at the concert, club, auditorium or stadium would be manufactured by Midas.'

Details of the demo sessions are available from NMK.
More: www.nmkelectronics.com