Supporting the release of his new album Supernova, American singer-songwriter Ray LaMontagne kicked off a 24-date North American tour at the Vina Robles Amphitheatre in Paso Robles, California, with Eighth Day Sound providing an Adamson Energia line array system powered by Lab.gruppen PLM amplifiers with Lake Processing.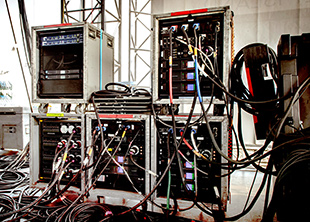 'It's great to see the Lab.gruppen amplifiers packaged with the Energia system,' says Jon Lemon, FOH engineer for the tour. 'Lab.gruppen amps are absolute workhorses, I never have any concerns when I know they are powering the PA.'
In all, 14 PLM 20000Q amplifiers power Adamson E15 and E12 line arrays enclosures as well as E218 subwoofers. Integrated Lake Processing provides speaker processing, monitoring and control. The PLM 20000Q (Powered Loudspeaker Management) system seamlessly integrates a four-channel amplifier with the Lake Processing platform, Dante networked signal distribution, accurate load verification and real-time performance monitoring. Energia presets – designed by Adamson – use Lake's FIR filter and linear phase crossovers. Two Lake LM 44s, located at FOH, handle signal distribution between FOH and the amplifiers.
'I use Rational Acoustics Smart v7 to assist the tuning process and make adjustments on the Lake filtering in the amplifier via a tablet interface,' says Sound Image system tech, Kyle Smith. 'It's incredibly efficient and makes set-up a breeze. It's incredible how much power these amplifiers provide,' adds Lemon. 'We started the tour with 16 amplifiers and quickly dropped the count down to 14 – we just didn't need them. It's not often that you can say something like that.'
The PLM 20000Q provides four discrete output channels, each rated at greater than 5000 W into 2.2 – 3.3 ohms (4.4kW into 4Ω). To achieve this output power, Lab.gruppen engineers designed a universal (100-265V) Regulated Switch Mode Power Supply (R.SMPS) with power factor correction to reduce peak current draw.