Providing postproduction services to all of German's major television production companies, Hamburg's M&E Studios is a long-term user of Steinberg Nuendo DAW software. Recently, the studio has invested in a Yamaha Nuage system, which has greatly improved its workflow.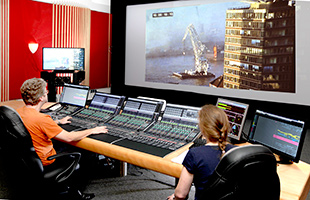 The facility was founded in 1989 by recording engineer Hans-Joachim Kloock and sound engineer/Foley artist Arne Damman. Along with scoring specialist Daniela Mükisch, the founders have used Nuendo since v2 its release in 2003. A total of six Nuendo workstations handle workflow of projects between the company's dedicated mixing, Foley and dubbing studios.
M&E has been using hardware control since adopting Nuendo, but the team found that it missed a lot of features they wanted, and inefficient workarounds slowed their work. However, after taking part in a Nuage Demo Day at Digital Audio Service (DAS) in Hamburg, Nuage has offered a better alternative. 'We immediately loved Nuage,' Damman says. 'The haptics, the look and feel were just what we needed and it gave us instant access to all the facilities where we had to use workrounds with the previous controller.'
The most comprehensive Nuage system was chosen, comprising a NCS500-CT Nuage Master unit, three NCS500-FD Fader units, two NIO500-A8D8 input/output units, a NWS500-SM Workspace unit, an AIC128 Dante accelerator card and, of course, the latest version of Nuendo running on a custom DAS Audio computer.
Heiner Niemann, DAS's broadcast and postproduction specialist, took care of a trouble-free installation in between two commercial television productions. Within four weeks of the installation, the studio had completed four movie projects on the Nuage system with no problems.
'Nuage and Nuendo is the most intuitive combination of postproduction software and hardware controller on the market,' says Damman. 'It only requires a short learning period to do professional productions, because it feels like a real mixing console combined with very ingenious handling of software and effects. In addition, the build quality is excellent and its extensive ADR features really do make it a first choice for all areas of dubbing and audio postproduction.
'Another advantage for us in installing Nuage was that we could get rid of literally kilometres of cables. This drastically simplified our technical set-up and improved audio quality.'
M&E is already committed to installing a second Nuage system in its Dubbing Studio 1 in Q3 2014.