The South Moravian town of Znojmo in the Czech Republic has recently seen two of its sports facilities equipped with audio systems based around Community loudspeakers. The Znojmo authorities commissioned Dancefloor to provide audio systems for the 6,000-plus seat Winter Stadium and the nearby Sports Hall.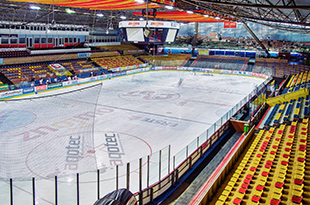 Home to the Orli Znojmo hockey club, the Winter Stadium is also used for international matches, hockey camps, figure skating training and competitions, skating courses and public skating, but had long suffered from low sound levels and a lack of speech intelligibility. 'For high intelligibility and overall sound quality we chose Community R.5 12-inch, two-way loudspeakers,' says Dancefloor MD, Libor Klemenc. 'Sixteen R.5s were required and we used a combination of 60° x 60° and 90° x 40° versions to give us perfect coverage. The R.5 is compact and discreet, and is ideal for the environmental conditions of an ice venue.
'With an MC2 Audio Ti1048 integrated audio management system providing delay and equalisation, and the audio dynamics maintained by four MC2 Audio T1500 amplifiers, we achieved excellent speech intelligibility, which was a primary requirement of the venue.'
Multipurpose use of the venue was also an important factor, which has also been addressed in Dancefloor's system design. Via the menu on the processor, an operator can choose from preset modes according to the event – hockey match, public skating, training, social event and so on.
The system can additionally be controlled from two separate locations – main events and hockey games are operated from the main control booth using a Dateq Onyx mixer, while public skating, skating courses and other social events can be controlled rink-side from the penalty timekeeper box using a Cortex Mix-R1U mixer. The system also provides control from both locations simultaneously as, for example, may be required during a hockey game where the main booth is used by commentators and the penalty box for reporting penalties. Additionally, a Shure SLX24E/SM58-P handheld wireless system enables live commentary to be made from any location in the stadium.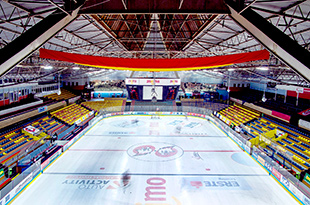 The Znojmo Sports Hall, meanwhile, is a used mainly for basketball, floorball, futsal, handball and rhythmic gymnastics clubs. 'With the Winter Stadium system so highly rated by its operators and visitors alike, we used the same basic formula for the Sports Hall, but designed it to precisely meet the use, layout and acoustics of the venue,' Klemenc says.
Here, Dancefloor used a combination of Community R.5 and R.25 loudspeakers, both with 90° x 40° dispersion. A Community dSPEC226 Networked Loudspeaker Processor provides delay and equalisation and MC2 Audio T1500 and T1000 amplifiers are used to power the Community loudspeakers. The combination again provided the high intelligibility and dynamic audio quality the venue required.
As with the Winter Stadium, Dancefloor provided presets on the dSPEC226 to enable the operator to simply select the mode required for the event, including match, training or social event. The audio system is also controlled via a Dateq Onyx mixer from the timekeeper's location, with a Shure SLX24E/SM58-P handheld wireless system enabling live commentary from any location in the hall.
Dancefloor employed acoustic CAD modelling for both venues to verify the designs before tender and both installations were completed to the highest standards using Klotz cables and Neutrik connectors. Entertainment requirements in both venues are met with Gemini CDMP-1400 CD/MP3/USB players.
'The new systems have transformed both venues,' Klemenc reports. 'The audio is loud and clear throughout, so that operators and commentators can focus on content and spectators can enjoy much greater involvement.'