With events at Abbey Road a regular part of its work with various production companies, it was fitting that Doug Hunt Sound & Light auditioned Martin Audio's MLA Compact system in Abbey Road's Studio One before taking the system's first sale from Martin Audio partner, Old Barn Audio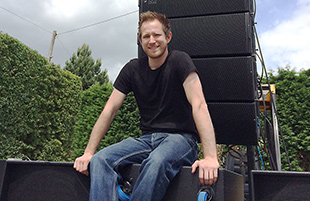 The initial purchase comprises MLA Compact enclosures partnered with Martin Audio's WS218X sub: 'This match of products was a sensible option for Doug Hunt Sound & Light as it offers all the benefits of the cellular MLA Technology combined with conventional WS218X sub-bass,' says Old Barn Audio's Phil Clark.
'The reaction I receive from all working around us is one of astonishment that the sound is so linear,' says Doug Hunt. 'I have mixed on many systems in many venues, and I know when I revisit them that the MLA Compact will allow me to do my job properly.'
Rigging and training took place at Doug Hunt Sound & Light's Essex base where Martin Audio Application Support (Touring), Andy Davies, spent three days with Doug Hunt and his staff, while scenarios were played out and the system tailored.
Also present at the sessions was Phil Clark from Old Barn Audio, who said: 'Doug has been a fantastic customer over the years and we know his company will now flourish further and faster with the MLA Compact as part of his stock holding.'