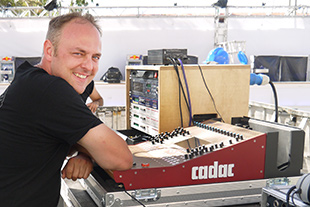 Celebrating its 25th anniversary with a celebration at its outdoor Flight Club arena, Ibiza's Space nightclub set up of the most sophisticated Funktion-One loudspeaker systems in the world. Powered by Full Fat Audio amps with XTA processing, the system used a Cadac CDC four digital compact console at FOH.
Sound specialist Project Audio was responsible for the system, and also the club's earlier 2014 season Opening Fiesta, which used a Cadac Live1/Funktion-One set-up. Full Fat Audio founder Dave Millard was Project Audio's sound engineer for both events, working with Funktion-One's Tony Andrews and Project Audio's Ibiza system technician George Yankov: 'We used the Live1 on the opening party but for the anniversary we needed to wireless mic a troupe of flamenco dancers on stage and use some effects on them, so we went with the CDC four for that,' he says.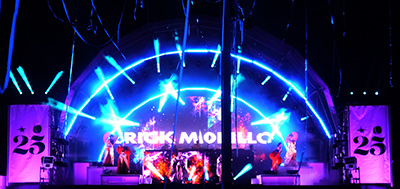 'The audio performance of both consoles is equally excellent – I cannot recall another desk so transparent and with so much drive and finesse. The CDC four allows the audio to breath and does not sound digital at all. Every nuance of a recording or live input can be heard, with even subtle changes to the controls. Bass is exciting with every note precise.'
The anniversary party featured a lineup of Playa d'en Bossa regulars and legends, including Nina Kraviz, Carl Craig, Jimmy Edgar, Shaun Reeves, Layo and Bushwacka!, Alfredo, José Padilla, Jose De Divina and César De Melero, a four-hour set from Erick Morillo, and 'cameo' spots from Fatboy Slim and Annie Mac. While the Opening Fiesta featured sets by the Chemical Brothers, James Zabiela, Camilo Franco, Jon Rundell, Danny Marquez, Charlie Hedges; Jonathan Ulysses, Harvey McKay and Rafha Madrid.