As with Womads past, the recent festival of 'artists whom we might not get to hear anywhere else' saw Britannia Row Productions providing sound services. And for its 2014 outing, the World of Music, Arts & Dance had added a new attraction – the Society of Sound marquee. One of two SSL Live digital mixing consoles could be found here, with the other on the main Open Air Stage.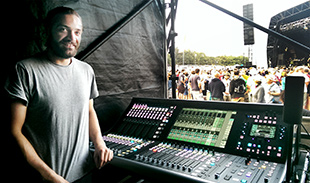 The loudspeaker system at the Open Air Stage comprised 12 L-Acoustics K1 elements per side, supplemented by 16 SB28 subs and a 12 Kara front fills. 'Using the SSL with the K1 system made for an extremely effortless mix,' says sound engineer Johnny Keirle, who worked as front of house and system engineer in Womad's Siam Tent in 2013. 'I never struggled to get anything sounding how I wanted. I found SSL Live's internal effects very easy to dial in and never had any issues with quality of effects sound, which I've commonly found to be a weak point in other touring consoles.'
The New Zealander mixed acts travelling without a FOH engineer, a role in which the console proved particularly comfortable: 'It provides an intuitive, logical workflow and is very easy to use in a festival situation,' Keirle says. 'Despite the time restrictions and last minute changes that can prove difficult and stressful at a festival, the console proved to be perfect for our set-up.'
The acts Keirle mixed included the eight-piece traditional Cuban ensemble Septeto Santiagero, Italian folk traditionalist Anna Cinzia Cillani and her Macuran Orchestra and Ethiopian jazz master Mulatu Astatke, who performed just before founding Womad headliner and Senegalese icon Yousou N'Dour. Over on the Society of Sound stage Live was coupled with the Bowers & Wilkins 'Sound System' for a line-up of experimental artists that included theRadiophonic Workshop, Beardyman, 9Bach, Justin Adams and Iarla Ó Lionárd.
For Keirle, the most appealing feature of Live was the customisability of the surface: 'On analogue consoles, you always have everything in front of you at all times,' he says. 'Obviously, with digital consoles, this is not the case. So, it's essential to have channels where they're needed. The flexibility of the control surface offered by the SSL is unparalleled.'
Keirle also mentions the secondary screen on the Channel Control Tile and its Focus Fader below, which together form the right-hand Focus Channel. 'The combination of direct-access buttons, push-button rotary encoders and touch screen offer full control across all channel processing,' he continues. 'I could work on channel processing while simultaneously using the primary screen for other functions.
'As I familiarised myself with the console's layout and workflow, I found I preferred to use the secondary, smaller screen with its direct access buttons and associated rotary encoders,' he adds. 'The Focus Channel offers quicker access to various channel functions and has the added benefit of physical knobs, which I find preferable to the touch screen or a fader flip for fine-tuning and tweaking.
'Being able to have my faders laid out as I wanted, in conjunction with full control over channel processing on the second screen, made it easy to quickly get underway. This meant I could spend more time working on my mixes, rather than learning how to operate the console. The ability to easily change the console's configuration is fantastic. Changing inputs or outputs from mono to stereo, or changing auxiliaries from pre- to post-fader is fast and easy, making the creation of suitable mix templates effortless.'
Keirle also found the customisable fader banks and layers very useful for Womad's festival situation: 'I found that I could easily reorder channels to work in our festival-patch scenario,' he adds. 'So, I adopted a layout that worked well for the bands I was mixing.'
More: www.britanniarow.com
More: www.solidstatelogic.com
More: www.l-acoustics.com