With a deadline dictated by an imminent visit from the Duke and Duchess of Cambridge, Sydney's St Andrew's Cathedral witnessed a fury of activity from staff from Wizard Projects and the Technical Audio Group, who were charged with installing a 140-element Martin Audio OmniLine system into the oldest cathedral in Australia.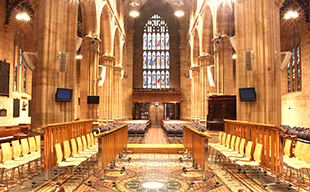 One of the city's finest examples of Gothic Revival architecture, the cathedral interior has particularly long reverberation times making clarity and evenness of coverage across the congregation a constant issue. And having previously struggled with a sound system that failed to deliver clear speech intelligibility or live music reproduction, the installation of the new system reached emergency status.
Ross Cobb, Director of Music at St Andrew's, and Canon Chris Allan were given the job of raising tenders for design, installation and commissioning of a state of the art system with absolutely no compromise in sound quality – to be fulfilled in just two weeks. The task was awarded to Wizard Projects, led by senior engineer Michael Sheldrick with an electro acoustic design team of Glenn Leembruggen and David Gilfillan – the final piece in the jigsaw was the Martin Audio OmniLine micro line array.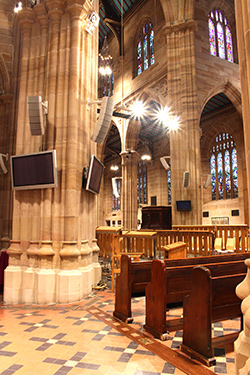 Having heard OmniLine in similar church installations, Cobb was impressed not only with the consistent coverage and fidelity, but also its minimal aesthetic impact.
The team identified a number of key design issues, including the long reverberation time, sub bass placement and beam steering. The unusual logistics of church services involves a 360° presentation from the pulpit, a centre transept area where choirs and clergy require sound reinforcement and a church where the congregation could sit anywhere at any service and expect perfect sound. On top of that, priests would move through the nave on headset radio mics with open mics for Q&A sessions.
Wizard's design solution was an unprecedented 140 OmniLine elements (distributed over 22 hangs) along with six Martin Audio AQ212 dual 12-inch sub bass. Not only was the quantity of elements enormous but so was the DSP control. Having used OmniLine in other reverberant environments they recognised that a unique aspect of the system is that not only can it be mechanically arrayed and aimed when used in passive mode but it can also be deployed in an MLA [Multicellular Loudspeaker Array] active configuration.
In MLA mode, each element in the array is separately amplified and processed using FIR filters, based on custom software. This enables the system to not only be mechanically and electronically steered but allows consistent frequency response throughout the listening area – without the lobing associated with straight columns. OmniLine is used in a combination of active arrays for the critical areas and passive hangs for spot fill, distributed across 60 channels of 200W/channel amplifiers.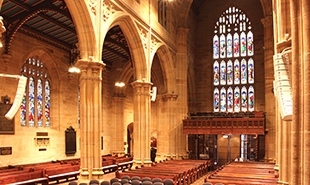 The main Western Nave arrays comprise two banks of 12 active OmniLines with a further two banks of ten active arrays for the outer north west pews, while the Eastern Nave comprises two banks of eight active elements with a further four positions of six active OmniLine for the centre of the transept.
The sub bass system is floor mounted in two banks of three AQ212 with separate amplification and processing for each cabinet, which enables the low frequencies to be electronically steered. 'Because OmniLine has such an extended and usable frequency response to 75Hz the spectral balance between arrays and subs is even and consistent – a feature not normally associated with compact array and large bass system,' says TAG Technical Director, Anthony Russo.
TAG also recommended advanced DSP and enable the church to control the system with iPads, using custom designed GUI screens for simple services, or interfacing with the mixer and digital stage box for full-scale services. Other design features enable the pulpit's local OmniLine – mounted a mere 500mm above – to be ramped down, panned and re-EQed to its opposite partner array via the use of an under-carpet pressure mat whenever a priest uses the pulpit with a live mic. OmniLine's smooth response is such that only 6dB reduction was required to achieve the pass mark required for gain before feedback criteria.
'OmniLine amazes every time we use it,' says Glenn Leembruggen. 'The CAD and filtering predictions are absolutely usable; it's an amazing engineering feat; there is nothing I have ever worked with that comes close to this product.'
More:
www.tag.com.au