Ranking high among Asia's retail complexes, V City – located in Hong Kong's New Territories West – has equipped its clubhouse with a 'substantial' installation of Symetrix processors. The need for effective network control of processors located in multiple control rooms made SymNet Radius 12x8 open architecture DSPs a logical choice for Soundclassy, which supplies Symetrix products to integrators throughout Hong Kong and Macau on behalf of distributor Sanecore.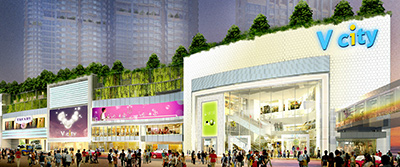 Soundclassy had been called in bt project collaborators, A/V consultancy Dino and systems integrator Betrue to equip the clubhouse – which features entertainment as well as using general background music to accompany drinks and food
'Dino has used Symetrix on a number of previous projects, so knew the brand very well,' explains Soundclassy Technical Adviser, Bill Chu. 'For the V City project, there was a need for quality and reliability, and that's been answered with a system that features nine Dante-enabled Radius 12x8 DSPs, along with two xIn 12 and four xOut 12 audio I/O expanders and no fewer than 20 Arc-2e wall panel remotes for easy control.'
The package provides audio networking over Dante, while the manufacturer's Arc RS485-based protocol manages control between the Radius 12x8 units and Symetrix' Arc-2e wall panel remotes. 'The system has been performing brilliantly, and the operators are very happy with the installation,' says Chu.
The investment in Symetrix at V City is in step with the US-based DSP specialist's presence in the Hong Kong market. For small- to medium-sized installations like corporate and university lecture room applications, the Solus open architecture DSP, fixed architecture Jupiter DSP and Zone Mix DSP are proving popular, while for theatres and casinos, Dante-enabled SymNet Edge and SymNet Radius open architecture scalable DSPs are proving equally successful.