As supervising editor on projects for TV, film and DVD, Ken Hahn specialises in mixing in stereo, and 5.1 surround. An early supporter of Penteo, he is currently running the latest version of ADL's Penteo 4 Pro stereo-to-5.1 up-mixer.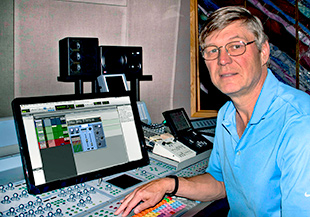 Among the projects he is currently handling at New York's Sync Sound (of which he is co-owner) is the Live From The Met series. 'First the operas are broadcast live in HD to theatres across the world, then those recordings are postproduced, and made available on DVD and Blu-ray, as well as broadcast on PBS,' he explains. 'Almost all the music up-mixing that we do involves pre-mixed stereo, like what we do for the Metropolitan Opera here in New York, or for a TV show like FX's The Americans, which we also mix here, and which may use more pop recordings or specialised sound effects.'
In addition to remixing the 'live' Met Operas, Hahn provides audio restoration services for the re-release of Met Opera archival recordings for DVD. These are performances that only exist on videotape with a stereo mix. First he restores the stereo mix and then generate a 5.1 mix. 'Because of the historical nature of these recordings,' he comments, 'it is imperative that we not alter the sound when up-mixing, and that's why we use Penteo.'
According to Hahn, Penteo maintains the image of the original stereo recording, but panoramically slices it into a surround field without delays or reverb. On pop music he up-mixes to 5.1, he says: 'Because of its familiarity and popularity, people don't want to hear it in any other way than the way they've always heard it. That is what I am most pleased with Penteo 4 Pro – I can take a stereo mix and up-mix it to get a very, very good-sounding 5.1, and then be assured that when it is brought back down to stereo it sounds as it did when it began.
'Penteo generates the 5.1 surround without adding any additional delays, equalisation, frequency shifting, dynamic change, alteration, or any of those tricks. It uses a new method to up-mix that doesn't alter the original stereo, so when folding back down to stereo, the stereo sounds just like the original.
'I've had a number of classical artists, conductors, and producers hear the Penteo 5.1 surround version of their stereo mix, and they'll say, "that's what I expected the stereo to sound like – it's got depth, it's got width, I can hear placement of instruments that I didn't across the stereo field that I wish I had".'
More: www.perfectsurround.com