Relocation to a larger facility was accompanied by the adoption of KRK Systems throughout, for the Icon Collective music production school in Burbank, California. The move includes 11 pairs of Rokit 10-3 three-way Monitors and two pairs of VXT active studio monitors.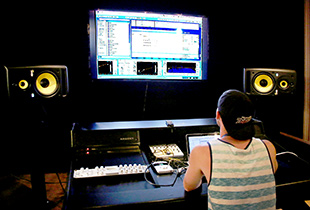 The school's new home is at the former Enterprise Studios, where a string of major records were produced in the 1990s. Within the facility are 11 studios and two mixing theatres that Icon co-founders David Alexander and Christopher Wright have converted into classrooms, studios and labs. As part of the move, a choice of loudspeakers that bring consistecny to the audio – especially between the larger studios and smaller rooms – was deemed essential.
'The mixing theatres that we have were actually sound stages previously used to mix movies so they are a perfect acoustic environment, but we needed a larger speaker to fill the space,' explains Alexander. 'The KRKs gave us the perfect balance between quality and volume, the two features that we were primarily looking for in those rooms. For the other studios, where the students are producing their own music, we wanted a speaker that was rugged and could handle a big load because they generally want to push the volume to get more of a club feel. They're definitely able to do that with the 10-3s, which also have great low volumes for critical listening.'
Since the school promotes an independent outlook, students often use equipment on their own – which has its problems: 'We used a variety of monitors in our old building, which led to a lot of blown speakers,' Alexander says. 'The KRKs bring us a sense of reliability and durability. They can take the abuse from the students and produce a high-quality sound. That's a perfect combination. We haven't had an issue with the Rokits. What the students and teachers notice most is that we can all count on the speakers because of their consistency.'
After using the KRK Rokit 10-3s, the school ordered two pairs of VXTs for the mixing rooms – Studio Alpha and Studio Genesis. One of these is the room that producer Dave Pensando used for most of his records and has exceptional acoustics. 'I think the VXTs will do really well in those rooms,' Alexander observes.
Alexander and Wright founded Icon Collective in 2005, after noticing a gap in the education field for a school that taught aspiring musicians and artists how to become independent entrepreneurs. Additionally, Icon Collective works on the belief that students should feel empowered to use laptops and software that allows them to be independent and self-reliant.
'At the time, no one was really interested in providing that type of service to artists who want to be independent and release their own music,' says Alexander. 'With the way the industry is today, artists are able to get their music out and interact directly with their fan base through social media. There is no need for distribution centres and a physical means of dispensing their product. So, that is our focus – empowering students to be self-sufficient. We saw a perfect opportunity to launch this educational model, and it's been very well received. Our graduates have been very successful. Most of them are touring or living a creative lifestyle, five even played Coachella this year, and we're really proud of that.'
With a class ratio of 18:1, Icon Collective accepts just 54 students for each intake. The one-year programme is broken into quarters of full-time study, which equates to roughly three days, or 14 hours, of instruction per week. When the students aren't in class, they are in the studios, focusing their attention on projects and other independent work.
More: http://www.learn2produce.com
More: www.krksys.com