The SSE Audio Group has been appointed a Soundcraft Vi Select Dealer, immediately purchasing one of the first Soundcraft Vi3000 digital consoles through Harman UK distributor, Sound Technology.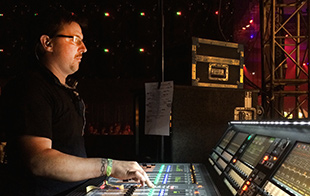 'We have a long history with Soundcraft's Vi Series,' says SSE Sales Director, Alex Penn. 'The Vi3000 sits neatly between the Vi1 and Vi4 and offers new features that will secure the longevity of this series, which has long been popular with engineers.'
The console supports the use of Universal Audio plug-ins via Soundcraft's Realtime Rack plug-in engine: 'The Realtime Rack can also be used with our existing Vi6 inventory,' Penn explains. 'We have a pool of sound engineers who are existing Vi users and it will be useful to let these guys know about the new facilities on offer with Realtime Rack.
'We also see a lot of potential in SSE sales and installations for the Vi3000, with its very competitive price point and new facilities. This is the first time a large-format Vi control surface has been available to the market at this level and the Vi3000 will integrate very neatly and cost-effectively into venues with existing analogue infrastructure via the I/O on the back of the surface. Onboard Madi and Dante interfaces as standard are also a huge bonus as well as upgraded DSP and new graphics.'
SSE's Vi3000 had had its first major outing at the recent Isle of Wight Festival, where it was used by SSE regular Chris Courtney to mix monitors for Travis. Courtney had previously used a Vi6 for the band, but for this festival run, the reduced size and lack of rack requirements made the Vi3000 a more attractive proposition.