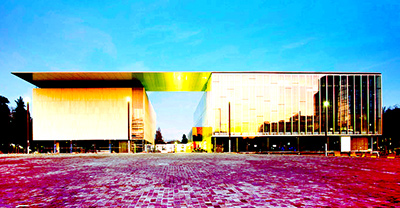 Twelve years in the making, the new Les Quinconces cultural centre has opened in Le Mans, France.
The complex follows the classic, orthogonal attributes of the Parc des Quinconces, and houses two theatres – one seating 830 and the other 120 – which will host major events including theatre, opera, and ballet productions.

Designed by Babin-Renaud Architectes, the theatre's façade is a play on a theatre stage– a vast glass curtain made up of randomly alternating opalescent, transparent and translucent strips. Inside, the hall is lined with 'wooden scales' under a large cantilevered roof.
It sound system relies on a range of loudspeakers from French manufacturer Amadeus, including the Diva XS and Diva XS 15 line arrays, and the co-axial PMX 12, PMX 15 and PMX 15 S, plus paired ML 15 and ML 18 subwoofers for each room. All of the speaker systems are powered by Lab.gruppen amplifiers, using the company's C Series and the newly released IPD Series.
'Equipment selection for the Theatre des Jacobins was part of the initial planning phase,' says scenographer and designer Rémy Delage. 'For the sake of interoperability with the other venue, a decision was made to use Amadeus systems. With the help of Michel Deluc – with whom I had previously collaborated, and Bernard Byk, whom I have known since starting out in the business – we went into a design phase based on the Amadeus line, with the constraint of staying within the initial budgetary limit. During that phase, I called on the expertise of the team at Amadeus – they put themselves at my disposal to care for all my needs.
'With the line array systems and peripherals chosen, all the equipment was installed but Michel – true to his habits – kept tweaking the settings, even though I thought they were already perfect,' he continues. 'Then came the time for the listening phase. Everything was there, homogeneity, truthfulness and precision of timbres. Again, I couldn't help but notice that if technique cannot replace artistic quality, it can help enhance it. It turns out that technique and artistry are both in Amadeus products.'
More: www.amadeusaudio.fr