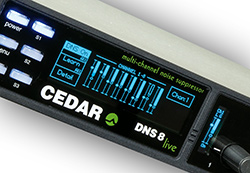 Having added a Cedar DNS 8 Live broadcast processor to its inventory, German multimedia specialist Schoko Pro Creative Engineering has put the unit through its paces on a series of events including the Geneva Motor Show, Kia Motors' press conference, the BASF Group Conference, the Adidas Global Brand Conference and Commerzbank AGM.
Schoko Pro Sound Engineer Dennis Siebert now regards the multichannel noise suppressor as part of the essential equipment in his live set-up: 'We can use the DNS 8 Live in the mixer inserts in the relevant speech channels or across the grouped outputs,' he says. 'It not only improves the voice quality and clarity in the live sound and feeds for streaming, but also in the recording.'
The company is based in Wiesbaden, and works on events across Europe.