The latest installation of Allen & Heath's new Qu-24 compact digital mixer is at the prestigious Cambridge Union Society – the oldest continually operating debating society in the world.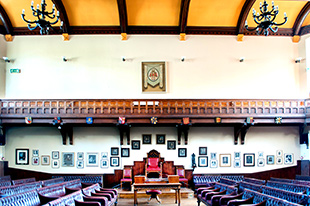 The installation is part of an A/V refurbishment, that will see a new system in place to serve participants that include heads of state, business leaders, actors, academics and politicians.
Having extensive experience in the university, cathedral and heritage sectors, installer About Sound specified and installed the new system, with the brief to 'provide a digital console that inexperienced users would be able to walk up to and operate'.
'Qu-24 fitted the brief perfectly and has lots of fantastic additional features,' says About Sound's Matthew Dilley. 'The mixer is housed on a balcony over the chamber, so the Qu-Pad app is a great benefit, allowing the engineer to judge levels and mute and unmute channels from within the debate from the audience point of view. The mixer's GEQ is also useful for ringing out the room with no external DSP in the chain.'
The Qu-24 typically manages 13 radio mics for regular debates. The mics are made up of bodypacks for the main contributors and handheld mics for questions from the floor. There is also often a requirement for Skype contributions to debates as well as filming and webcasting of events.