With its 20,340-capacity, the Nagyerdei Stadion is the third largest football stadium in Hungary. The sound installation for the all-seat football stadium was designed and installed by Interton Ltd and features a Community loudspeaker system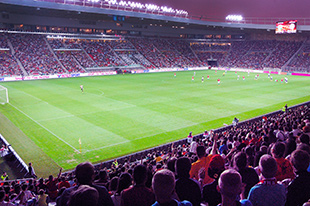 Home to the Debreceni Vasutas Sport Club, the venue will host matches for the Hungarian national football team, as well as Debreceni VSC games. The ground also incorporates conference and banqueting suites and has a club shop.
'In addition to good speech intelligibility, the brief was for discrete styling and high-quality music, so the obvious choice was the weather-resistant version of the iHP-1596 from the iBox Series, which provided the power, frequency response and aesthetics the client wanted,' says Interton Chief Engineer Zoltán Horváth. 'An Ease simulation was carried out to confirm the design would meet the required criteria.'
The audio system network is provided by a QSC Q-Sys system, with one Core250i and the required number of I/O Frames. The main arena sound system uses four I/O frames and 28 PLX3102 amplifiers, located in four rack rooms. These amplifiers drive 53 Community iHP-1596WR loudspeakers, mounted below the outside edge of the canopy and providing sound to the 360° grandstand and to the playing field. The iHP-1596WR is a premium-quality large-format 15-inch full-range loudspeaker system with 90° x 60° coverage.
'The results are impressive,' comments Horváth. 'It's a really nice sounding system with great SPL to inform and entertain a capacity crowd.'
In addition to the main arena PA, Interton designed and installed the audio systems for the venue's main buildings and studio and also supplied a mobile conference system. Interton additionally installed the scoreboards and the perimeter display, the video distribution system and more than 100 LCDs. Audio and video distribution are Ethernet based, using the stadium's LAN.
An inauguration ceremony was held for the opening of Nagyerdei Stadion by Hungarian Prime Minister, Viktor Orbán. After sanctification by leaders of both the Roman Catholic Church and the Greek Catholic Church, singers including Lou Bega, Viktor Király, Ildikó Kersztes, Gigi Radić and Erika Miklósa entertained the audience at the celebration.