Canford has been appointed sole UK broadcast distributor of the new Fischer FiberOptic Series, a rugged push-pull connector line that is suited to both indoor and outdoor applications and comes pre-cabled for maximum performance and time saving.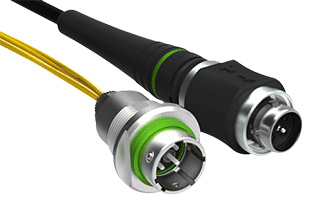 The connectors promise 'best in class' optical performance and easy mating and easy field cleaning. They have a high ingress protection (IP68) when mated and IP67 in unmated conditions. The sealed connectors IP68 rating is tested at a depth of 2m for 24 hours (IEC 60529) and has an operating temperature range of -40°C to +85°C (depending on fibre-optic cable). Each connector can withstand up to 1,000 mating cycles.
When a connector or cable is submerged in mud, water or dropped on to dirty dusty ground, it can immediately and easily be cleaned in the field by using a removable mono-block mate adapter for access to the termini. The FiberOptic Series can be cleaned under water or in an ultrasound bath. Fischer Connectors also offers complete cleaning kits adapted to its field cleaning methods.
The connectors are offered in either two-fibre (FO2) or four-fibre (FO4) versions, suitable for point-to-point audio, data or camera-connection use, in environments such as studio floors, touring, rental and outside broadcasts. The IP68 rated connectors retain the familiar push-pull connection system found on the Fischer 1051 Triax HD Pro+ product range, also available from Canford.
These pre-cabled connectors are available in a variety of panel receptacles and patchcords in lengths of 5m to 500m. Chassis connectors or panel connectors are supplied pre-terminated. Acting as a breakout, they are supplied with tails terminated with either LC, SC connectors, or tails with bare ends, for user-termination.
For those with existing fibre cabling, Canford offers a break-out box that can be configured to allow LC, ST or other connectors to be mated with the Fischer FiberOptic Series. Breakout boxes for splitting a FO4 fibre connector into two FO2 connections are also available.
More: www.fischerconnectors.com
More: www.canford.co.uk